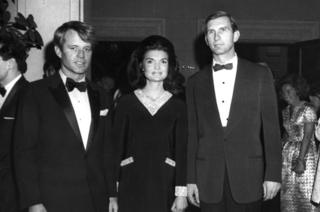 Former US Senator Joseph Tydings, who died last month, worked closely with former presidents Lyndon Johnson and JFK. And, representing a bridge to the present White House, he fell out with President Donald Trump over his family's coat of arms, he told the BBC's Naomi Grimley earlier this summer.
At his apartment in Washington DC, Senator Joe Tydings is showing me a picture hanging on the wall.
It's an oil painting of Russian infantry fighting in snow. But it is the little brass plaque attached to the picture which catches my eye. It states that the piece of art was a gift from Joseph Stalin to Joseph E Davies, Joe's grandfather and a celebrated diplomat.
It's the first sign that this former senator belongs to an extraordinary family.
Joe himself was a Democratic senator for Maryland in the mid 1960s but although he only served one term, he had the good fortune to know many of the big names in American politics.
Also dotted around the apartment are photographs of the good looking Kennedy brothers.
Tydings was a good friend to both JFK and Bobby Kennedy in the late 1950s having met them via the Young Democrats. When JFK first decided to run for president he enlisted Tydings as his campaign manager in Maryland.
He recalls one incident at the end of a long day canvassing when they stopped in a diner. It was a Friday but the fish options for observant Catholics were not good, so JFK ordered steak.
"No sooner had he ordered than a large Catholic family entered the diner and when they saw Jack they went wild. They were jumping up and down they were so excited. JFK acknowledged their enthusiasm but quickly turned to an aide and murmured 'For God's sake, get into the kitchen and don't let them bring out those steaks until this family has gone!'"
After Kennedy's big win in the autumn of 1960, Tydings found himself as a marshal in the inaugural parade. Even the January weather did not dampen the spirits of those who had supported the youthful president.
"They had the biggest snow storm in DC history and it was bitterly cold. The army had to come in with flame-throwers overnight to clear Constitution Avenue. My God, it was so exciting! We stopped at the Presidential Box and watched the parade with JFK. For me it was huge because I was Kennedy's man in Maryland and yet I was really only a kid."
Perhaps the crowning glory for Joe Tydings and his family was a balmy summer's evening in August 1963 when the president dined at his country home of Oakington on Maryland's coastline.
More on JFK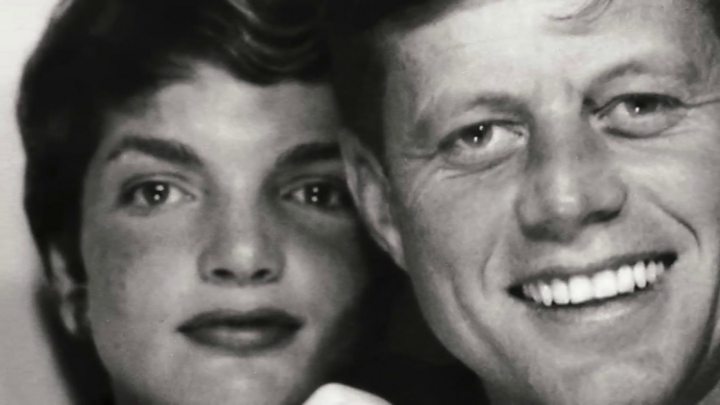 Special phone lines had to be installed for the occasion so that the White House could stay in touch.
"We rushed out to where the helicopter landed to meet him. We were all young and attractive back then. JFK greeted everybody and came up to the big house with its view across the Chesapeake Bay.
"My God, the president of the United States – the most popular young leader in the world – was coming to have a private dinner with us! I mean, that's a pretty big deal!"
It was on this perfect evening, as a jazz band played, that JFK suggested Tydings should run for the Senate.
The fact that Joe Tydings was such good friends with the Kennedy brothers meant that he had to go through the shock of not one but two assassinations.
Tydings had been at the White House for a drinks party the night before President Kennedy took his fateful trip to Texas.
Two days later he was in Baltimore at a lunch marking the start of his run for the Senate when someone ran into the restaurant and declared the president had been shot.
"It was very abrupt. It's still tough for me to talk about it. It was hard to believe."
It wasn't until two years later that the full impact hit him. Tydings was standing with Bobby and Teddy Kennedy watching LBJ get sworn in at his second inauguration. "We were sitting on the far barricade and all three of us were crying because it shouldn't have been LBJ standing there. It should have been JFK."
The death of Bobby Kennedy in June 1968 hit Tydings even harder. As freshmen senators, they had been inseparable and they even attended Martin Luther King's funeral together earlier that year.
"It was horrible, so horrible" he says, recalling the moment he learnt of Bobby's assassination in a late night phone call.
"In some ways it was more crushing than JFK's death. JFK was more of a father figure, but Bobby was like a twin brother."
Joe's grandfather, Joseph E Davies, used to be US ambassador to the Soviet Union in the mid 1930s.
He was married to the cereal heiress Marjorie Merriweather Post who built Mar a Lago, the Florida mansion now owned by President Trump.
As a young child, Joe Tydings went there by sleeper train for his holidays.
So how does it feel to watch Donald Trump's helicopter land on the famous golf course?
He laughs: "It's not a happy thought."
Tydings never forgave Trump for an incident involving the family coat of arms.
The crest – belonging to Tydings' grandfather – had originally adorned the gates of Mar a Lago. But Trump removed the latin motto "Integritas" (meaning honour or uprightness) and replaced it with the letters "TRUMP".
Then he started using the family coat-of-arms in promotional material for his golf club.
"It's typical Trump" says Joe as he shakes his head in disbelief. "For him to even use the damn crest is despicable."
I ask him why he didn't sue President Trump, whom he used to know.
"I had one guy offer to pay any and all attorney's fees if I took Trump to court. But I used to spend my summer holidays working on a farm and if there's one thing that teaches you it's this – do not get in a pissing duel with a skunk."
Senator Joe Tydings died on October 8th at the age of 90.
From Truman to Trump airs on BBC World Service on 13 November or you can listen again here
Source: Read Full Article