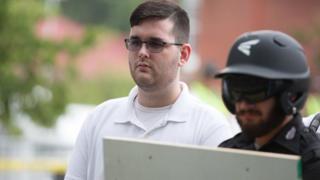 A man who drove his car into a crowd of protesters in Virginia, killing a woman, has been found guilty of murder.
Alex Fields Jr, a 21-year-old described by prosecutors as a white supremacist, was on trial over the incident in Charlottesville in August 2017.
Heather Heyer, 32, died when the car hit a group of people protesting against a white nationalist rally.
Mr Fields's lawyers had insisted that he had acted out of fear for his own safety.
He faces 20 years to life in prison and will be sentenced at a later date.
The jury at Charlottesville City Circuit Court, which deliberated for less than a day, found him guilty on all the charges including murder; five counts of aggravated malicious wounding; three counts of malicious wounding and one count of hit and run.
Fields, from Ohio, also faces 30 other federal charges relating to hate crimes to which he has pleaded not guilty.
What happened in Charlottesville?
The white supremacist rally was one of the largest such gatherings in America in decades and drew hundreds of neo-Nazis, white nationalists and Ku Klux Klan members.
The "Unite the Right" march was organised to protest against plans to remove a statue of General Robert E Lee who had fought for the pro-slavery Confederacy during the US Civil War.
Dozens were injured in the violence that erupted between the marchers and counter-protesters.
Graphic video of the incident involving Mr Fields's car was widely shared on social media.
Source: Read Full Article