The US president's threat comes a day after American authorities closed the country's busiest southern border crossing and fired tear gas into crowds.
Officials reopened the crossing at the San Ysidro port of entry between San Diego and Tijuana on Sunday after shutting it down for several hours. It is the most heavily trafficked land border in the western hemisphere.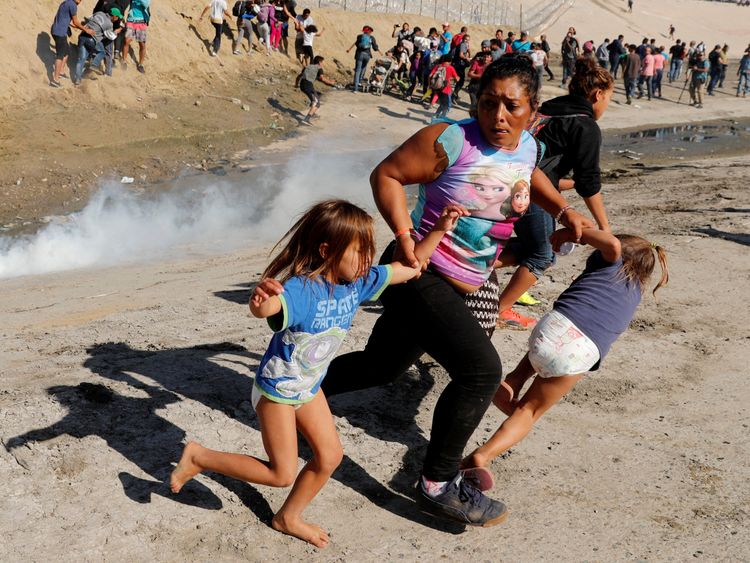 President Trump threatened to shut the 2,000-mile (3,200km) US-Mexico border down once more this morning.
He tweeted: "Mexico should move the flag waving Migrants, many of whom are stone cold criminals, back to their countries.
"Do it by plane, do it by bus, do it anyway you want, but they are NOT coming into the U.S.A. We will close the Border permanently if need be. Congress, fund the WALL!"
The tweet comes as 42 migrants were arrested on the US side of the Mexico border, according to a San Diego Sector Border Patrol official.
Chief Patrol Agent Rodney Scott told CNN "numerous" people had made it across the border on Sunday, adding that most of those who were detained were men.
Sunday's confrontation at the border occurred where there is already a physical barrier.
Hundreds of people – including women and children – had been protesting and chanting "we aren't criminals! We are hard workers".
The group, part of a migrant caravan, were soon stopped near the US border by Mexican authorities, who told them to wait for permission before the stand-off took place.
The migrants, mainly from Honduras, are attempting to escape poverty and violence in their home country and said they would wait in Tijuana until they could request asylum in the US.
Source: Read Full Article