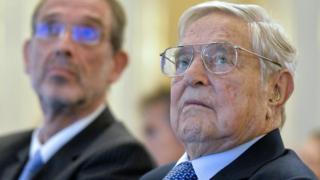 Billionaire philanthropist George Soros's foundation has said it will end operations in Turkey.
The Open Society Foundation said "baseless claims" about its work had been made in Turkish media, which made it impossible for it to continue.
The move also comes after President Tayyip Erdogan said Mr Soros was trying to divide and destroy nations.
He linked him to anti-government protests at Istanbul's Gezi Park in 2013.
What did Erdogan say?
In a speech last week, Mr Erdogan – in comments condemned as anti-Semitic – highlighted the recent arrests of 13 people in connection with the Gezi protests.
They are accused of supporting jailed activist Osman Kavala in an attempt to topple the government through mass protests.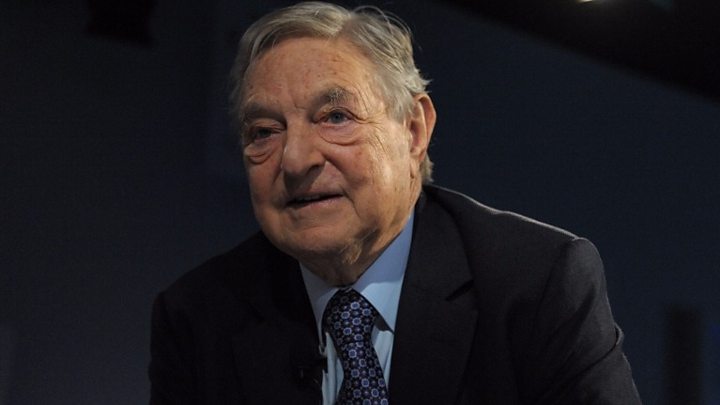 "The person who financed terrorists during the Gezi incidents, is already in prison," Mr Erdogan told a meeting of local government officials.
"And who is behind him? The famous Hungarian Jew Soros. This is a man who assigns people to divide nations and shatter them. He has so much money and he spends it this way."
What did the foundation say?
The Open Society Foundation said it would apply for the legal liquidation and winding up of its operations in Turkey as soon as possible.
It said "new investigations" were trying to link it to the Gezi protests.
"These efforts are not new and they are outside reality," it added.
The foundation insisted it had worked in Turkey in compliance with the country's laws.
Who is George Soros?
A Hungarian-born financier, he has spent billions of his own money funding human rights projects and liberal democratic ventures around the world.
But he has become a target of far-right anti-Semitic tropes in many countries.
In the US, Twitter users have been fed the narrative that Mr Soros is deeply involved in funding liberal causes, from paying people to protest against Justice Brett Kavanaugh to handing out cash to encourage migrants in the south of Mexico to move toward the American border.
US President Donald Trump himself claimed on Twitter that women protesting outside the Justice Kavanaugh confirmation hearing were "paid for by Soros and others".
Disinformation about Mr Soros is also present on Facebook, with groups such as "George Soros Exposed" and "Arrest George Soros" becoming more active in the weeks before the US mid-term elections.
George Soros Exposed posted a meme calling him "the most evil man on this planet" along with a list of his alleged "crimes".
Source: Read Full Article