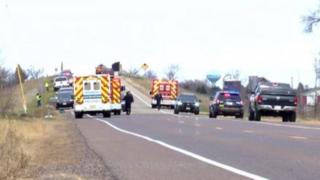 Three Girl Scouts and their escort were killed while picking up rubbish by the side of a Wisconsin road by an intoxicated driver, police say.
Colten Treu, 21, fled after hitting the group near Lake Hallie on Saturday morning, but he later surrendered.
Police said on Monday he had been inhaling cleaning fluid before the crash. The girls were all wearing high-visibility vests when he hit them.
He is being held in the Chippewa County jail on 13 criminal charges.
The charges include four counts of homicide by intoxicated use of a motor vehicle.
Police say that both Mr Treu and a passenger in his vehicle had become intoxicated on a chemical substance directly before the crash occurred around 11:30 (17:30 GMT) on Saturday.
Lake Hallie police have identified the victims as Jayna Kelley, 9, Autum Helgeson, 10, Haylee Hickle, 10, and her mother Sara Jo Schneider, 32.
One girl who survived the crash is in critical condition in hospital.
The girls were from a scout group in Chippewa Falls, about 90 miles (145km) east of Minneapolis.
They were wearing bright green safety vests as they walked along both sides of County Highway P, which they had adopted as a local community service project.
Police say that Mr Trea's pickup truck swerved across a lane and veered into a roadside ditch where the girls were working, striking them.
"Our hearts are broken for the girls and families of the Girl Scouts of the Northwestern Great Lakes," CEO Sylvia Acevedo of Girl Scouts of the USA said in a statement on Sunday, as vigils were held in the girls' community.
"The Girl Scout Movement everywhere stands with our sister Girl Scouts in Wisconsin to grieve and comfort one another in the wake of this terrible tragedy."
One vigil, outside the Halmstad Elementary School which some of the girls attended, saw hundreds of mourners gather in near freezing rain to pay their respects to the victims.
Some of the girls sang songs in memory of their friends.
At a court appearance on Monday, prosecutors said that Mr Treu had bought a can of compressed "air duster" at Wal-Mart, which they say he was inhaling prior to the crash.
He was also found with methamphetamines, cannabis and other controlled substances when he was arrested, police say.
A judge ruled that he could be released pending trial if he can post a bond of $250,000 (£190,000), and abstains from using a vehicle or taking drugs.
Source: Read Full Article