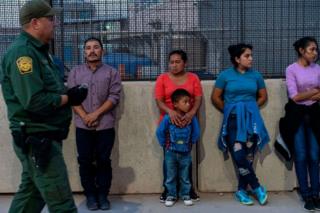 The Republican-controlled US Senate has approved a bill to send aid to the border with Mexico, as the image of a drowned migrant family shocked the US.
It earlier rejected a rival aid bill from the Democratic-led House of Representatives imposing restrictions on US immigration agencies.
Lawmakers in both chambers now face pressure to reconcile the two bills.
Reports of migrant deaths, poor detention conditions and neglected child detainees have shaped the debate.
The funding bill battle comes amid outrage over photos showing a drowned migrant father and daughter at the US-Mexico border, and days after reports emerged of detention facilities where migrant children were being held in "horrific" conditions.
On Wednesday, President Donald Trump reacted to the outcry, saying Democrats wanted open borders, "and open borders mean people 'drowning in the river'".
Source: Read Full Article