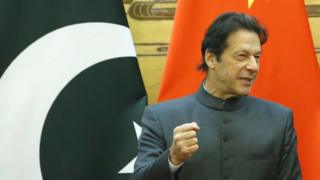 Pakistan state TV has apologised after broadcasting a speech by PM Imran Khan in China with a caption displaying the word "begging" instead of Beijing.
The typo appeared during a live address at the Central Party School in Beijing.
Mr Khan is in China for official meetings and is seeking billions of dollars in aid to help stave off a financial crisis.
The Pakistan Television Corporation (PTV) later said it would take "strict action" against those responsible.
Pakistan is also seeking a bailout from the International Monetary Fund (IMF).
Following the "typographical error" broadcast at the weekend, PTV posted a short statement on Twitter describing the incident as "regrettable".
However this was not before the mistake, which reportedly remained on screen for 20 seconds, was ridiculed on social media.
Someone on the news team accidentally mistyped IK's location as "Begging" instead of "Beijing" and it's honestly the most hilariously ironic thing ever.?????????? pic.twitter.com/ppkzlvROBV
End of Twitter post by @Shahrukh294Rukh
PTV sources have confirmed that for the 'Begging – Beijing' dateline typographical error during PM @ImranKhanPTI speech in China, PTV's Director News, Director Current Affairs, Director IT and 3 panel-personnel have been suspended and orders came directly from the PM pic.twitter.com/YRwJVt6Gz3
End of Twitter post by @PakPressWatch
On Saturday, China said it had agreed to "firmly move forward" with infrastructure projects in Pakistan following meetings between Mr Khan and Chinese Premier Li Keqiang.
During his official visit to China, the world's second largest economy, Mr Khan also met President Xi Jinping.
China has invested tens of billions of dollars in Pakistan in recent years as part of its Belt and Road Initiative – which aims to link the economies of Asia, Africa and Europe via huge infrastructural projects.
The cash-strapped Pakistani government is facing grave economic challenges as it struggles to avoid a financial crisis and keep the economy afloat.
Last month, Saudi Arabia said it would provide Pakistan with a $6bn (€5.2bn; £4.6bn) rescue package, but officials have said it is not enough, and the country still plans to seek a bailout from the IMF.
It would be Pakistan's 13th rescue package from the multilateral lender since the late 1980s.
Source: Read Full Article