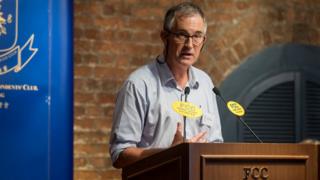 Hong Kong has barred the Financial Times Asia news editor from entering the territory, after refusing to renew his work visa last month.
Victor Mallet tried to enter Hong Kong as a tourist on Thursday but was turned away after several hours of questioning by immigration authorities.
The denial comes just a month after the territory refused to renew his work visa without explanation.
It followed a talk Mr Mallet hosted at Hong Kong's Foreign Correspondent Club.
The FT journalist was acting president at the FCC when the event featuring young independence activist Andy Chan was held.
China's ministry of foreign affairs had urged the club to cancel it.
British citizens are usually allowed entry to Hong Kong for 180 days without a visa, according to the tourist board.
The FCC has reiterated its request for an explanation from Hong Kong's top official Carrie Lam about the original visa denial.
The FCC is now reiterating its demand for an immediate explanation for this aggravated and disproportionate sanction against @VJMallet that seems completely unfounded. https://t.co/1BzIgehCVA
End of Twitter post by @fcchk
Under the so-called "one country, two systems" formula, Hong Kong enjoys a high degree of autonomy and certain freedoms not available in China.
However, there are fears some of these freedoms are being eroded.
On the same day Hong Kong denied Mr Mallet entry, Chinese author Ma Jian announced the cancellation of his events in the Hong Kong International Literary Festival being held at the government-backed Tai Kwun arts complex.
Organisers will now have to find an alternative venue, he said, although it is unclear whether the events will take place at all.
In later tweets, as the writer boarded a plane bound for Hong Kong, he expressed concerns he might not be allowed through immigration.
"It would have been easy not to go, to avoid difficult questions," he wrote. "But more and more it seems to me that in literature, there is nowhere to hide."
My plane will soon take off. Thank you for all the support from old and new friends on twitter. There is strength in numbers. I will arrive in Hong Kong at 5pm tomorrow. I look forward to the Festival and to seeing some of you there. pic.twitter.com/zSYiSuovFw
End of Twitter post by @majian53
These latest moves come after the authorities banned the small Hong Kong National Party that advocates for the territory's independence.
It marked the first time the territory banned a political party since it was returned to China from the UK in 1997.
Source: Read Full Article