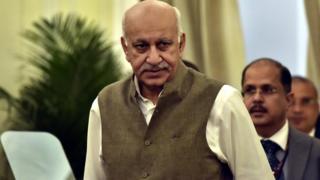 India's junior foreign minister MJ Akbar has resigned after numerous women accused him of sexual harassment and assault, officials have confirmed.
The former prominent newspaper editor is the most high profile figure to be named in what is being called India's #MeToo movement.
The charges range from "predatory behaviour" to sexual assault.
Mr Akbar had earlier filed a criminal defamation case against the female journalist who first named him.
He said in a statement that since he had decided to challenge the "false accusations" against him in his "personal capacity", he felt it was appropriate to step down from office.
Mr Akbar's resignation came as pressure grew on the government to respond to the allegations being made against him.
One of India's most influential editors, he has edited leading English-language newspapers in India, such as The Telegraph and The Asian Age.
He was first named last week by journalist Priya Ramani, who retweeted an article she had written for Vogue India a year ago titled "To the Harvey Weinsteins of the world", where she recounted what she called her first experience of workplace harassment.
Ms Ramani did not name anyone in the original piece, but said in her tweet that the article had been about Mr Akbar.
Reacting to Mr Akbar's resignation, Ms Ramani tweeted that she had been "vindicated".
As women we feel vindicated by MJ Akbar's resignation.
I look forward to the day when I will also get justice in court #metoo
End of Twitter post by @priyaramani
Since Ms Ramani's earlier tweet, other women have come forward with their own stories, naming Mr Akbar. At least one other anonymous account is believed to be about him.
Mr Akbar, who was travelling at the time of the allegations, returned to India on Monday and filed a defamation suit against Ms Ramani.
Ms Ramani has said that she is "ready" to fight the case against her.
Her tweet prompted other women to come forward with their own stories, naming Mr Akbar.
Source: Read Full Article