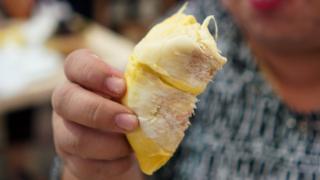 More than 500 students and teachers were evacuated from a university in Melbourne, Australia, as a result of a smell initially suspected to be gas.
But it turned out the "gas" that students smelt at the RMIT's library was a rotting durian that had been left in a cupboard.
The durian is a tropical fruit known for its strong, stinky smell.
Firefighters said the smell had moved through the building via the air conditioning system.
The building has now been reopened, Melbourne's Metropolitan Fire Brigade said in a statement.
'Turpentine and onions'
After staff and students at the university reported a smell they thought to be gas in a library building, they were evacuated by the local police force.
The fire brigade said the building stores potentially dangerous chemicals, triggering an investigation into the source of the smell.
After what the fire brigade described as a "comprehensive search", they discovered that the smell was not a chemical gas but rather that it came from a durian that was going off.
Durians are a prized fruit in South East Asia with a sweet and creamy flesh, but their smell can take some getting used to.
The Smithsonian magazine described it as akin to "turpentine and onions, garnished with a gym sock".
What is a durian?
Source: Read Full Article