Seven years ago, a company founded by Roger Taylor was criticised for failing to explain its algorithm to the hospital at the centre of what was said to be the worst care scandal in the history of the NHS.
Now Mr Taylor finds himself facing similar criticism, as the exam regulator he chairs stands accused of failing to share vital information with the government about the algorithm blamed for wreaking havoc with GCSE and A-level results.
The public inquiry into avoidable deaths at Stafford Hospital, known as the Mid Staffs scandal, criticised Mr Taylor's company for failing to offer "complete clarity" about an algorithm it used to calculate hospitals' death rates, saying it gave Mid Staffordshire NHS Trust "false reassurance" about its standard of care.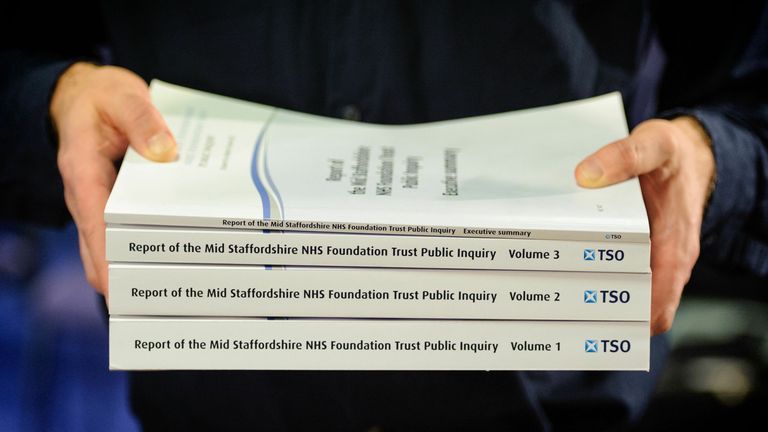 Ofqual has been accused by government ministers of failing to point out flaws in its marking algorithm, which was abandoned after it appeared to downgrade the predicted grades of poorer pupils disproportionately.
Education Secretary Gavin Williamson claimed he had "consistently asked a large number of challenging questions about the system" and been reassured by Ofqual about its "robustness and its fairness".
An investigation by Sky News found similar criticism was levelled at Mr Taylor's company in the 2013 inquiry into Mid Staffs by Sir Robert Francis QC, which described patients left in "appalling and unnecessary suffering" by a culture of cost-cutting and a focus on targets.
Medical data company Dr Foster used an algorithm to calculate scores called "mortality ratios", in order to warn hospital bosses about risks to patients. Like the exam results produced by Ofqual's algorithm, these were standardised, effectively ranking hospitals in a league table.
Yet after Stafford Hospital received a dangerously high score from the algorithm in 2007, executives who spoke to Dr Foster left with the false impression that the result was due to a technical error.
Source: Read Full Article