Long queues to get through immigration at Heathrow airport on Friday night were "unacceptable" the Home Office has said.
It comes following reports people fainted while waiting in queues for several hours.
The government said UK Border Force will be reviewing its capacity and deploying more staff to the airport to reduce waiting times.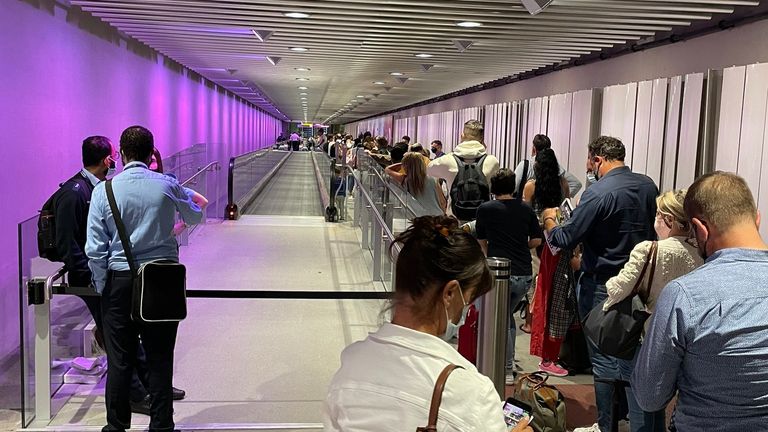 A Home Office spokesperson said: "Throughout the pandemic we have been clear that queue times may be longer as we ensure all passengers are compliant with the health measures put in place to keep the UK public safe.
"However, the very long wait times we saw at Heathrow last night are unacceptable.
"This is the busiest weekend of the year for returning passengers, with particularly high numbers of families with children under the age of 12 who cannot use e-gates."
One traveller told Sky News he and his pregnant wife had to wait for two hours after returning from holiday in Malta.
"Honestly, it was absolute carnage," said Jason Reed.
"My wife is pregnant and has a bad back so was really uncomfortable and tired. Was also extremely hot with no ventilation.
"We saw a man had fainted along with way with lots of police around.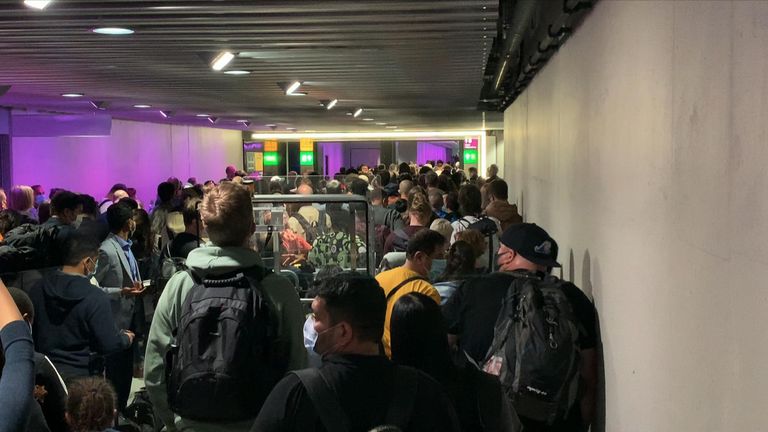 "When we reached the passport control hall, they had opened the eGates which we managed to get through after a couple of hours queuing. Our passenger locator forms were not even checked.
"All the families with children were being ushered into an even longer and worse queue – as they couldn't use the eGates – we felt really sorry for them.
"Lots of people were really struggling."
Another passenger Noel Braganza, who landed on Friday evening, said it was the "opposite" of COVID secure.
He had flown to the UK from Sweden to reunite with family for the first time in two years, with his nephews ending up waiting for him for two hours.
He said the staff were "not helpful at all" and were "just trying to ignore annoyed travellers the best they could".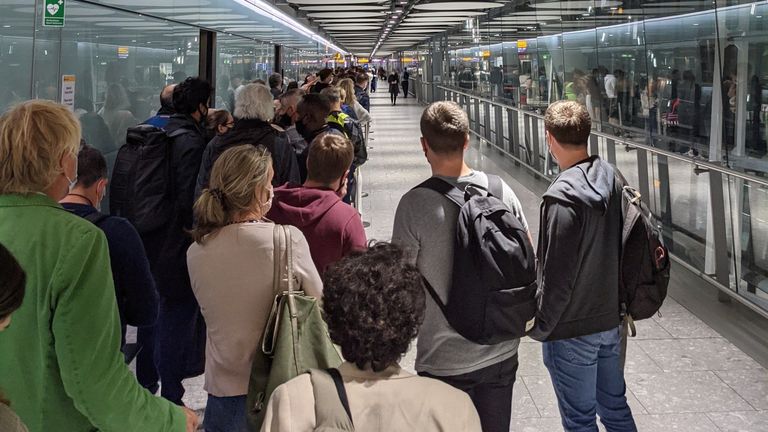 Mr Braganza added: "I just wish someone just said 'Hang in there everyone. This is just because everyone arrived at the same time and we are not very quick processing travellers.'"
One passenger shared an image of queues on Twitter, saying: "Kids crying and screaming and fully grown [men] fainting whilst two people at the booth serving thousands of people queuing up to the runway."
"Horrendous kettling at #heathrow terminal 5 arrivals [Friday]," another added. "No Border Force. No ventilation. No fire exits. No explanation. Held there for over an hour."
Source: Read Full Article