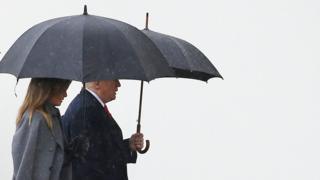 The French Army appeared to poke fun at Donald Trump on Twitter yesterday, after the US President cancelled a visit to a World War One cemetery over poor weather.
"There's rain, but it's no problem" the army's account tweeted, with the hashtag #MondayMotivation.
Mr Trump was widely criticised for failing to visit the Aisne-Marne American cemetery before Armistice Day.
The French Army later claimed the tweet was only meant to be about training.
Mr Trump's press secretary Sarah Sanders has defended his decision to skip the memorial event last Saturday, saying visibility was too poor for his helicopter and he did not want to disrupt the Paris traffic with his motorcade.
On Monday, the White House also confirmed that the president would not be attending a remembrance ceremony at Arlington National Cemetery that day.
Source: Read Full Article