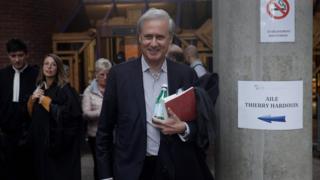 A French court has cleared an ex-government minister of rape and sexual assault charges made by two former employees.
The women alleged that Georges Tron – then mayor of Draveil, a town outside Paris – and a female councillor, Brigitte Gruel, had assaulted them between 2007 and 2010.
Ms Gruel has also been cleared of all charges. Both denied any wrongdoing.
Mr Tron resigned as a junior minister when the allegations surfaced in 2011.
"I've had seven extremely difficult years. I think of my family. I know my fate is in your hands," Mr Tron told the court before the decision to clear him was made, Europe 1 reported.
Prosecutors had called for him to be jailed for six years and for Ms Gruel to get four years.
Their accusers, Virginie Ettel and Eva Loubrieu, had alleged that they were pressured into taking part in reflexology sessions, some of them conducted with Ms Gruel.
The sessions began with foot massages, but developed into assault by penetration, the former employees said.
After the verdict Ms Loubrieu, 44, said she was "very disappointed" but said she would "not give up the fight", AFP reported.
In 2010 Ms Ettel quit her secretarial job after two years and tried to commit suicide, French media reported. Ms Loubrieu, who was hired in 2007, was sacked for alleged theft in 2009, the reports said.
Source: Read Full Article