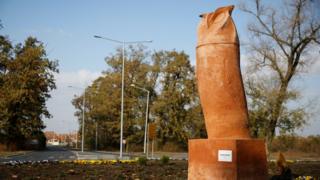 A recently erected owl statue in northern Serbian has drawn mockery for its allegedly phallic shape.
The 2.4 metre (8ft) terracotta sculpture was created to celebrate the town of Kikinda's status as a bird-watching hub for the world's largest roosting population of long-eared owls.
But shortly after it was raised, critics decried it as obscene.
The original Facebook post on the town's page to celebrate the statue received dozens of mocking comments.
"This is great," wrote one. "I just can't figure out what it reminds me of".
Да ли сте приметили да полако стижу наше драге гошће, сове?
Није ни чудо, јер стигао је и Совембар! ???
Аутор статуе:…
End of Facebook post by Град Кикинда
"I love owls and I love the city but this sculpture is pure failure," another said.
There was also anger, with some speaking of the "shame" it has brought to Kikinda.
"Now everyone will make fun of us," one Facebook user commented.
You may also like:
The statue's creator, Jovan Blat, told Serbian newspaper Vecernje Novosti that he was prepared to make a new sculpture in light of the criticism.
The statue was not intended to be "a copy" of an owl, but rather a "stylised sculpture" with "an elongated, tubular body", he said.
"It is clear… that everyone does not understand contemporary art," he said, while admitting he may have "some technical limitations".
Source: Read Full Article