Police officers are facing heightened hostility and anger as they carry out stop and search operations in London's black communities.
Frontline officers have told Sky News tensions are running extremely high in many of the capital's boroughs, following recent high-profile stop and search incidents.
Senior officers said the tactic remained a "vital component" in tackling high levels of violent crime, but admitted the public mood in some communities had become increasingly strained.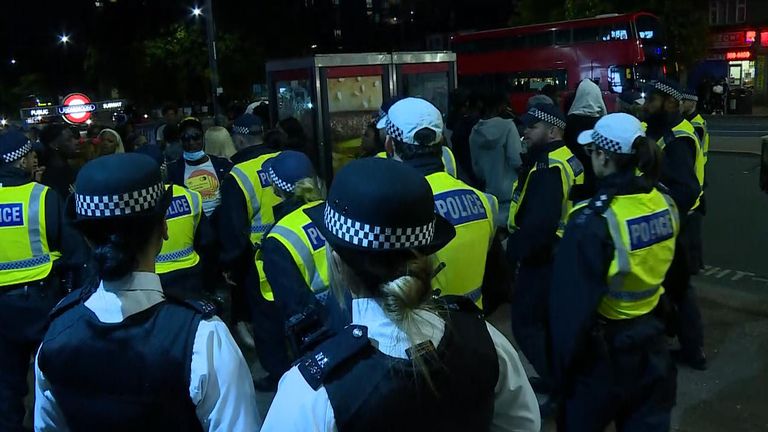 Sky News was given exclusive access to officers from the Met's new violence suppression units, a London-wide initiative using local officers to tackle violent crime in their boroughs.
In Haringey, north London, a team of 52 local officers are attached to the Violence Suppression Unit in that area, one of the capital's most violent boroughs.
Sky followed a team as they carried out weapons searches in a park near Turnpike Lane tube station, a known hotspot for gang activity, according to the police.
Within minutes of arriving at Ducketts Common, plain clothes officers found a knife buried in the ground and two packets of cannabis on the grass next to it.
Two minutes later, another team found a large kitchen knife hidden in a litter bin next to a child's play area.
And just a quarter of an hour after that, officers found two cricket bats, hidden in bushes nearby.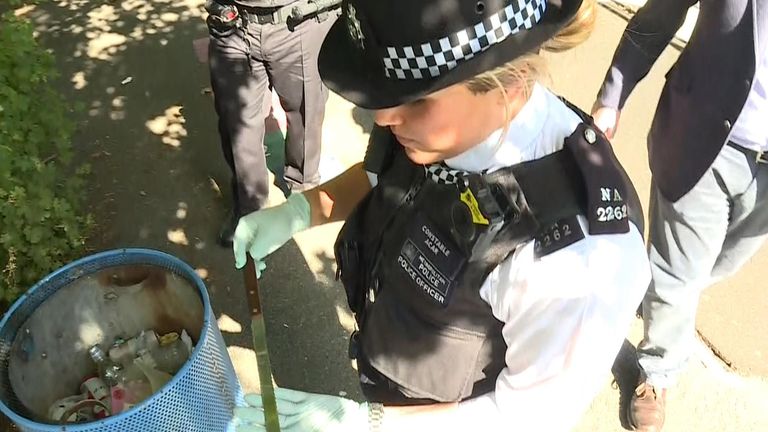 It is not just knives that criminal gangs will use to settle disputes – bats and other objects are often used as makeshift weapons.
Although people are still regularly caught carrying knives, gangs are increasingly hiding their weapons in easy-to-access areas, like local parks and open spaces.
PC Burak Guven told us: "I don't think criminal gangs discriminate in terms of where they want to hide their offensive weapons.
"I think the more unbelievable the location, the better it is for them because you wouldn't think to maybe search in a children's play area but this is just the reality for us."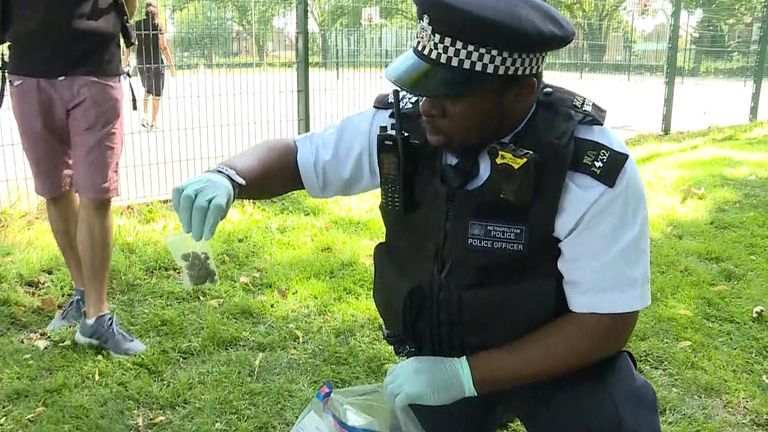 The other reality officers say they now face is growing levels of community resistance to stop and search operations.
Sky News witnessed incidents where angry crowds gathered after officers stopped black teenagers.
There were shouts of "racist police" and accusations the teenagers had only been stopped because of the colour of their skin. Police refute any such suggestion.
In one incident, officers stopped two 17-year-olds on suspicion of riding stolen hire bikes.
Although one of the teenagers stopped was white, the officers still faced claims they only target young black men.
Source: Read Full Article