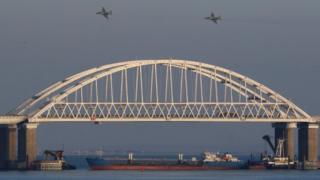 Russian border guards intercepted and seized three Ukrainian navy boats off Crimea, in a major escalation of the Russia-Ukraine conflict.
Why did this happen?
On Sunday two Ukrainian gunboats and a tug were sailing into the Kerch Strait, the only route for ships to enter the Sea of Azov from the Black Sea.
Russia's FSB border guard force says the flotilla violated Russian territorial waters, after the FSB had temporarily closed an area of water to shipping.
Ukraine calls it a flagrant violation of international law, citing a 2003 treaty in which Russia granted unimpeded access to the Kerch Strait and Sea of Azov.
How serious is this?
It is the most dangerous clash at sea off Crimea since Russia annexed the Ukrainian peninsula in 2014.
Russia is now holding the three boats in Kerch. One was rammed on Sunday by an FSB vessel.
The Russian forces opened fire before seizing the boats. Several Ukrainian sailors were injured. Russia also sent military aircraft to the scene.
Ukraine's parliament is considering a decree from President Petro Poroshenko to impose martial law.
The UN Security Council is holding a special meeting, requested by Russia and Ukraine.
How does it affect the conflict?
The risk is that the conflict in eastern Ukraine could intensify. The pro-Russian separatists there have Russian heavy weapons, while Ukraine has received help from the West. They have been fighting since April 2014.
Russia opened a bridge over the Kerch Strait this year, tightening its grip on Crimea.
Russia now regularly inspects Ukrainian ships in the Sea of Azov, imposing extra costs on Ukraine. The area is vital to the Ukrainian economy – steel, grain and other goods pass through it.
The clash underlines the risks in the disputed waters off Crimea, which is recognised internationally as Ukrainian.
Want to know more?
Tensions spark Ukraine martial law talks
Crimea history and politics
Eastern Ukraine: A new, bloody chapter
Five soldiers killed in Ukraine clashes
Putin reveals secret Crimea plot
Source: Read Full Article