Woking Park has been evacuated and the funfair area of the park has been cordoned off.
After initially reporting that a Helter Skelter collapsed, Surrey Police clarified that the ride was a giant inflatable slide.
South East Coast Ambulance Service are on scene at what they are calling a "significant incident".
Seven children are being treated for "potentially serious injuries" and are being transported to major trauma centres in London.
A number of people who claim to have been at the event report that at least one child fell from the top of the slide.
Andy Datson was at the funfair and saw the aftermath of the incident.
He told Sky News: "There were lots of kids on the floor net to the inflatable slide.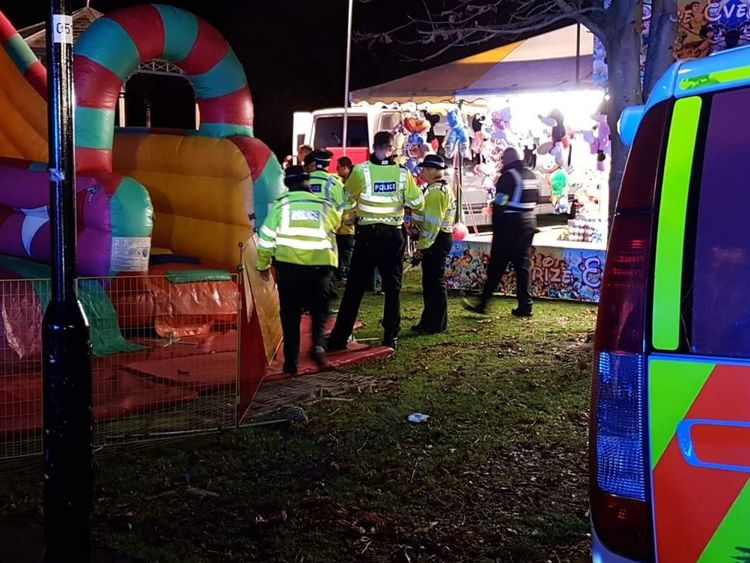 "I don't want to speculate but the only obvious thing that happened is it gave way on the side and they fell."
Mr Datson said he saw around 40 children on the top of the slide and that he was unable to see anyone supervising it.
"[The children] were doing what they liked, running and jumping when they wanted."
He believes the slide is around 25-30 feet high.
The ambulance service were called at 7.30pm to reports of an inflatable structure collapsing.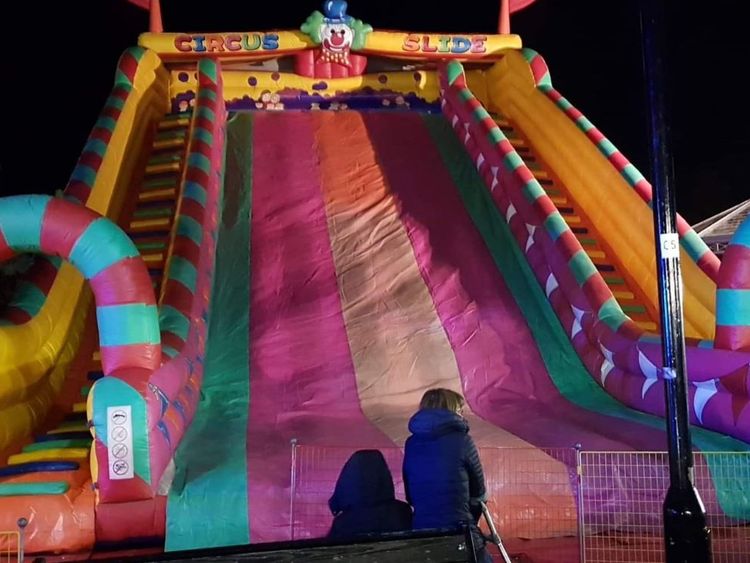 An air ambulance left the scene at around 9.15pm.
Speaking to Sky News, Adam Morris of Eagle Radio who was hosting the fireworks event and is still at Woking Park said: "The mood is very sombre… It's very quiet."
He said that after he made the announcement for people to evacuate they did so quickly and calmly.
The only people left at the site are emergency services and some staff and volunteers from the event, who are helping where possible – including bringing cups of tea and coffee to the emergency services staff.
The organisers' Twitter account posted they were "very shocked and distressed".
"We are all very shocked and distressed by events in the funfair this evening. We are focusing in assisting the emergency services in dealing with the injured children," Woking Fireworks account said.
Organisers said they hoped for 12,000 people to attend the event and believed at least 9,000 turned up.
A number of attendees have been criticised for asking for a refund on their tickets within hours of the incident happening.
More follows…
Source: Read Full Article