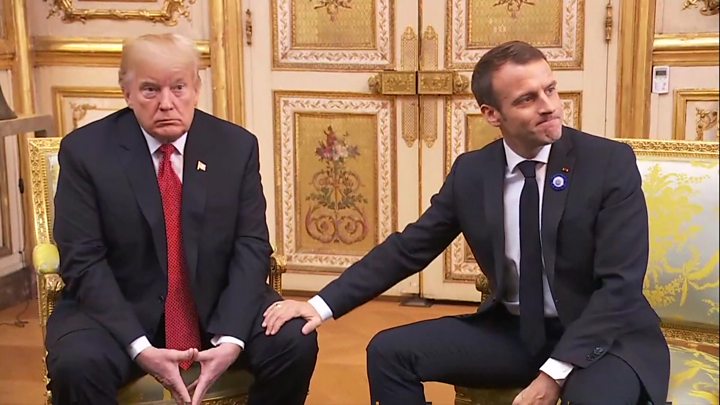 Donald Trump and France's Emmanuel Macron have both said Europe should pay more of its defence costs, a day after the US president attacked the idea of a European army.
Mr Trump is in Paris ahead of events marking the end of World War One.
He said the US wanted "a strong Europe," but the defence bill "has been largely on the United States."
Mr Macron said he agreed that "we need a much better burden-sharing within Nato" – the Euro-Atlantic alliance.
"When President Trump has to protect one of the states of the United States he doesn't ask France or Germany or another country to finance. That's why I do believe that we need more investments," he said.
Around 70 world leaders are gathering in Paris for events marking the Armistice that ended World War One, which was signed 100 years ago this Sunday.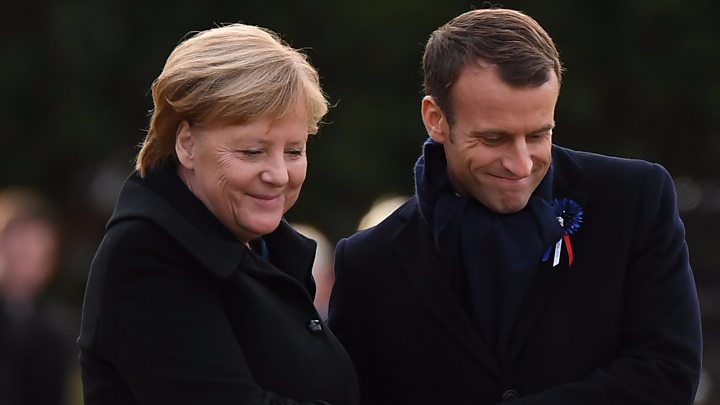 The Trump-Macron show of unity came despite earlier tensions, triggered when the French leader said the EU needed a joint army now that the US was pulling out of a key disarmament treaty with Russia.
"I want to build a real security dialogue with Russia, which is a country I respect, a European country – but we must have a Europe that can defend itself on its own without relying only on the United States."
In the interview with French radio station Europe 1 on Tuesday, Mr Macron mentioned "re-emerging authoritarian powers" that were well-armed on Europe's borders, "attempted attacks in cyberspace and interference in our democratic lives", concluding: "We have to protect ourselves with respect to China, Russia and even the United States of America."
Mr Trump responded angrily in a Friday night tweet, writing: "President Macron of France has just suggested that Europe build its own military in order to protect itself from the US, China and Russia. Very insulting, but perhaps Europe should first pay its fair share of NATO, which the US subsidizes greatly!"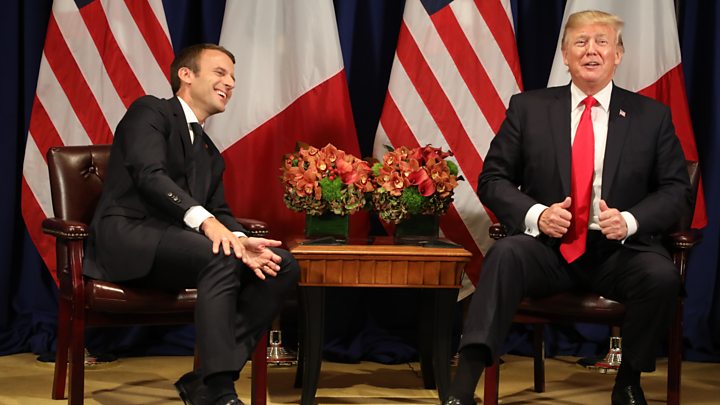 Mr Macron has already raised spending considerably to meet Nato target of 2% of the GDP going to defence.
He is also overseeing the formation of a European Intervention Initiative , a 10-nation endeavour, which is backed by Germany and the UK.
Trump cancels cemetery trip 'due to weather'
After an hour of talks between the two leaders and lunch with their wives Melania and Brigitte, Mr Trump had been scheduled to visit two American cemeteries over the weekend, but later cancelled his trip to Aisne-Marne American Cemetery and Memorial due to "scheduling and logistical difficulties caused by the weather".
The White House said that Gen John Kelly, its chief of staff, would attend on the president's behalf.
The decision attracted much derision on social media, including from former George W Bush speechwriter David Frum who like many drew comparisons with the conditions faced by the troops who fought and died in World War One.
But bottom line: Trump willfully insisted on an unnecessary trip to France to mark the WW1 centenary -then once he got there shirked on grounds of weather the job of honoring those who fought and died in rain and mud 100 years ago https://t.co/7u3qZCmBRB pic.twitter.com/5TX1WLt9k8
End of Twitter post by @davidfrum
Mr Trump is still expected to attend a sombre commemoration at the Tomb of the Unknown Soldier, a memorial to France's fallen under the Arc de Triomphe in Paris.
On Saturday afternoon, Mr Macron and Germany's Chancellor Angela Merkel visited the town of Compiègne in northern France, where the Allies and Germany signed the Armistice.
Visiting heads of state will then gather for dinner in Paris in the evening.
Sunday afternoon will see Mr Macron and Mrs Merkel attend a peace conference – the Paris Peace Forum – with leaders including Mr Putin and Turkey's Recep Tayyip Erdogan.
Mr Trump will not be present, however, which his National Security Adviser John Bolton put down to a diary full of "pressing issues".
The Armistice 100 years on
Long read: The forgotten female soldier on the forgotten frontline
Video: War footage brought alive in colour
Interactive: What would you have done between 1914 and 1918?
Living history: Why 'indecent' Armistice Day parties ended
Will Trump meet Putin?
The status of this proposed meeting has changed repeatedly in recent weeks.
On Wednesday the Kremlin said the pair would hold a "short working lunch" at the Élysée Palace in Paris, but the US contradicted that the same day.
"I don't think we have anything scheduled in Paris and I'm coming back very quickly," the president said. "I don't think we have time set aside for that meeting."
The two men may meet at a lunch for world leaders on Sunday, but it remains to be seen if a more formal discussion will ultimately materialise.
Source: Read Full Article