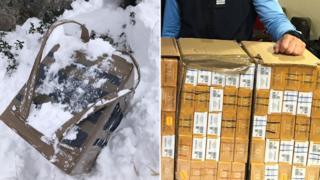 A sudden cold snap in the Pyrenees cost a young man his life as he slogged through the snow, smuggling cigarettes for a few €10 notes.
The 20-year-old Algerian was found unconscious in the snow by a French police patrol last week. He died of hypothermia.
One hundred cigarette cartons were found nearby which he had likely been paid less than €50 (£43) to carry.
His family identified him on Thursday, after he had been missing for days.
The tragic fate of the young smuggler highlights the continuing problem of cigarette trafficking on the mountain routes between Andorra and France, for which those risking their lives are paid little and the traffickers orchestrating the operation remain beyond the reach of customs officers.
"Traffickers are the ones who benefit from these weak people who are impoverished, and who are ready to take any risk for a few dozen euros," Perpignan prosecutor Jean-Jacques Fagni told France 3 TV.
"That is how they are paid by these unscrupulous men, who exploit the poverty of others."
Mr Fagni told AFP that he had opened a manslaughter investigation on the basis that others may have endangered the man's life or neglected their duty of responsibility to him.
The 20-year-old man was found on Monday 29 October, and appeared to have made some attempt to stave off the mountain cold, with a coat and several layers of clothing on his legs.
But the night before, a cold snap had caused the season's first snowfall on the mountain.
When customs officers found him, he was wrapped in three different coats – which may have been left behind by other smugglers who, apparently startled by the arrival of the gendarmerie, fled back towards the border with Andorra.
The local gendarmerie posted of photo to their Facebook page the following day, showing the discarded boxes of contraband cigarettes that had apparently been left behind by the smugglers.
The French officers called the nearby town across the border for assistance. But despite an emergency helicopter being dispatched and an evacuation to Meritxell Hospital in Andorra, the young man died.
With no identity papers on his body, it took more than a week before he was identified by members of his family who travelled to the morgue in Andorra on Thursday.
Police and customs officials have been warning about the risk to life these cigarette smugglers have been taking for more than a year.
Regional newspaper La Depeche reported in August 2017 (in French) that tonnes of tobacco had been seized in the previous two years – far more than usual.
And France 3 reported one incident of a smuggler being intercepted in January 2016.
Source: Read Full Article