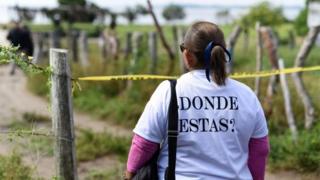 A group of Mexican mothers looking for their missing children is digging up a site in the eastern state of Veracruz in search of mass graves.
A spokeswoman for the group, called Solecito, said the mothers had received an anonymous tip-off.
The mothers fear that more than 400 people could be buried in shallow graves in the area.
Hundreds of bodies have already been found in other nearby clandestine graves in the past two years.
Solecito was founded two years ago by relatives whose loved ones had gone missing in Veracruz and who had grown frustrated at the lack of official action. Most of its members are mothers who say they will not rest until they find out what happened to their children.
You may also be interested in:
Official figures suggest that there are 3,600 open cases of disappearances in Veracruz but the state attorney general, Jorge Winckler, says that those are only the cases in which relatives officially reported the disappearance to the police. The real figure could be much higher, Mr Winckler said.
Mr Winckler has in the past described Veracruz as "an enormous mass grave" which drug traffickers used as a dumping ground for bodies.
Solecito spokeswoman Rosalía Castro Toss said the group had received information that led them to believe between 400 and 500 people could be buried at a site 5km (3 miles) north of an area known as Colinas de Santa Fé.
Colinas de Santa Fé is where the group has dug up more than 150 shallow graves containing the remains of almost 300 people over the past two years.
Another 166 skulls were found in September in a mass grave in the port city of Veracruz.
Ms Castro, who has been looking for her son Roberto for the past seven years, said local officials and federal agents would participate in the search of the new site.
"It was a killing field, or worse," Ms Castro said of the number of dead they feared could be buried there.
Most of the bodies found in Colinas de Santa Fé are believed to be victims of violent crime and criminal gangs. Veracruz is bitterly fought over by two powerful cartels, the Jalisco New Generation Cartel and Los Zetas.
More than 25,000 people were killed in Mexico in 2017, the most violent year in decades.
Source: Read Full Article