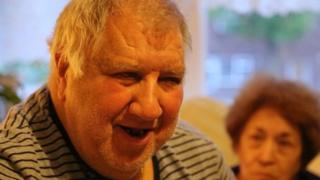 Forty years on from Gen Augusto Pinochet's military coup in Chile, Leopoldo Garcia Lucero is one of many victims of his regime who still wait for justice.
Eighty-year-old Mr Garcia is house-bound in a cramped council flat in south London. He is disabled by the torture he suffered after he was arrested in September 1973.
"I'm alive," he says. "But it feels like a living death."
His front teeth are missing. His face still bears the scar from where he was hit on the forehead with a rifle butt. And he is in constant pain from the beatings he endured almost four decades ago.
"It still affects me every day," he says.
"Every time I comb my hair or shave, I see my scar and the fact that I have no teeth, and I think of Pinochet.
"My head hurts. I need a hearing aid to hear properly. I have trouble walking because they almost fractured my spine. They put electricity in my eyes and testicles and mouth," he recalls.
Landmark case
This is the story of what torture did to just one man – and the shadow it has cast over his family.
Mr Garcia was a political supporter of Salvador Allende, the elected president whom Gen Pinochet ousted.
He had been photographed with the former leader and was tortured while being interrogated about the whereabouts of Mr Allende's ministers.
Expelled by the Pinochet regime to the UK in 1975, he is seeking moral damages through the Costa Rica-based Inter-American Court of Human Rights, where a verdict is expected imminently.
It is a battle for justice that has lasted for almost half of Mr Garcia's life. And human rights activists see it as a landmark case.
One of many
"Behind the case of Mr Garcia Lucero, there are more than 200,000 others who were expelled or forced into exile – many of whom were also tortured. And we are trying to make them and their right to justice visible to the world," says Clara Sandoval, a lawyer for the charity Redress, which is representing Mr Garcia.
The Chilean government argues that it has already paid adequate reparations for the abuses committed under Gen Pinochet.
But his lawyers say no-one has been held to account for Mr Garcia's torture and, as an exile, he has not received compensation.
A key aim of the case, according to Ms Sandoval, is to force Chile to conduct a more thorough investigation into what happened to people like Mr Garcia, and to ensure that the perpetrators are punished.
"It doesn't matter that we are talking about an 80-year-old man living in the UK. He still wants and has a right to justice," she says.
"This is a great case to show that 40 years on, we won't allow impunity to reign. We need to prevent these things happening again."
Mr Garcia does not know the identity of his torturers because he was blindfolded.
"That's why I want a full investigation to find out who did this to me," he says. "It was a miracle I was not left paralysed and brain damaged."
Mental scars
His eldest daughter, Maria Elena, describes the pain of watching her father still suffering – physically and mentally – four decades on, as he grapples with depression and anger.
"The mental scars are not something you can just sew up or put stitches on," she says. "You carry on living with what's on your mind."
She says her father, a big personality who used to work at the Santiago racecourse, is a "completely different" person from the bon viveur she grew up with.
"He would whistle and sing in the shower," Maria Elena says. "He was very sociable. He loved life."
Mr Garcia, who was held at the notorious Chacabuco concentration camp in the Atacama desert after his torture, says that the worst moment was when soldiers threatened to shoot his six-year-old daughter in the back, and then kill him.
"At some point every day, I want to explode with anger. Anything could set me off – I feel like I'm nothing," he told the BBC.
But, according to his family, his battle for justice helps get him out of bed.
"If I win the case, it will help me regain my sense of self and allow me to live out the rest of my life in dignity," Mr Garcia says.
"This case is not just for me, but for others too."
Source: Read Full Article