Stock Alert: Community Health Systems Climbs 28% As Q3 Results Beat Estimates
Shares of Community Health Systems, Inc. (CYH), an operator of general acute care hospitals, are gaining more than 28 percent or $1.24 in Wednesday's morning trade at $5.63.
Tuesday, Community Health Systems reported third-quarter net income of $112 million or $0.97 per share, compared to net loss of $17 million or $0.15 per share last year. Adjusted earnings were $0.18 per share, compared to adjusted net loss of $0.29 per share last year. Net operating revenues declined 3.7 percent to $3.13 billion from $3.25 billion last year.
Analysts polled by Thomson Reuters had a consensus estimate for loss of $0.16 per share for the quarter on revenues of $2.9 billion.
Community Health Systems also said its Chairman and Chief Executive Officer, Wayne Smith, will transition from CEO to executive chairman of the board of directors, effective January 1, 2021. President and Chief Operating Officer Tim Hingtgen will be appointed as new CEO, effective on the same day.
Community Health Systems has traded in a range of $2.25 to $7.47 in the past 52 weeks.
Selena Gomez Messaged Google's CEO on Instagram Asking Him to Remove Election Disinformation Ads
Selena Gomez is trying to make an impact on the upcoming election and wants to stop the spread of disinformation so people can vote knowing true facts only. To achieve this goal, Selena hopped on Instagram and slid into the DM's of a very important person who can make a massive difference in what we see online: Google CEO Sundar Pichai.
Yesterday, Selena posted a screenshot of a message she sent to Pichai to her Instagram Story. She wrote: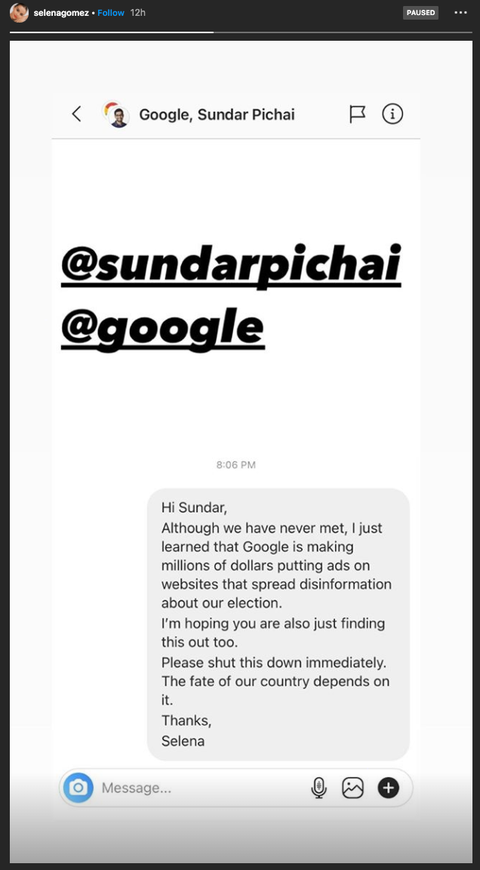 Selena didn't namedrop any ads, but in August the Washington Post did report that Google approved and ran an ad from a conservative non-profit organization that contained false information and doubted the security of mail-in voting in three key swing states—Florida, Michigan, and Texas.
Selena recently admitted that this election was her first time voting. During an appearance on Voting Power Hour, Selena said that she never felt the need to vote because she didn't think her vote mattered. Explaining herself, she added:
https://www.instagram.com/p/CGp_hsjAMUU/
Major props to Selena for voting this year and using her influence to stop election disinformation! And just a friendly reminder: It isn't too late to register to vote if you haven't already—peep these handy guides for the election, what to do if it's your first time voting, and how to plan for November 3:
Five-Year Note Auction Attracts Below Average Demand
Continuing this week's series of announcements of the results of its long-term securities auctions, the Treasury Department revealed Wednesday that its sale of $55 billion worth of five-year notes attracted below average demand.
The five-year note auction drew a high yield of 0.330 percent and a bid-to-cover ratio of 2.38.
Last month, the Treasury sold $53 billion worth of five-year notes, drawing a high yield of 0.275 percent and a bid-to-cover ratio of 2.52.
The bid-to-cover ratio is a measure of demand that indicates the amount of bids for each dollar worth of securities being sold.
The ten previous five-year note auctions had an average bid-to-cover ratio of 2.50.
On Tuesday, the Treasury revealed its auction of $54 billion worth of two-year notes attracted modestly above average demand.
The Treasury is scheduled to announce the results of its auction of $53 billion worth of seven-year notes on Thursday.
Wall Street Corners Cancer Care on Florida's Paradise Coast
SHARE THIS ARTICLE
The Florida city of Naples is known for its abundance of white-sand beaches, restaurants, and resorts. But when it comes to cancer care, some residents may find themselves with little choice. A single company,GenesisCare, operates all four of the city's radiation treatment centers.
GenesisCare got its foothold in Naples after buying another chain,21st Century Oncology, that grew with backing from private equity investors. Throngs of wealthy people hoping to retire on Florida's Paradise Coast made it plum territory for the business, according to Isaac Vire, a former radiation therapist at 21st Century. "Naples is kind of a cash cow," he says.
Herald morning quiz: October 29
Test your brains with the Herald's morning quiz. Be sure to check back on nzherald.co.nz at 3pm for the afternoon quiz.
Disney+ Adds Button To Let Mobile Users Easily Share Content Via Messenger Apps, Social Media
Disney+ Wednesday introduced a new sharing capability on mobile that lets subscribers share content via messenger apps or onto social media platforms including Facebook, Instagram and others.
Subscribers can tap a new "share" button found on the Disney+ title's Details page, select the preferred medium and who they want to share with. The share button will compose a pre-populated message to accompany the share, but subscribers can overwrite it with a personal message. Recipients can click on the shared link to go straight to the Disney+ title, and if already a subscriber, start watching.
Walt Disney launched Disney+ last November so it's now pushing the one-year mark. In August, CEO Bob Chapek the direct-to-consumer service had 60.5 million global subscribers, up from 54.5 million in early May and 57.5 million at the end of June. It's already at the low end of the 60-90 million subs it anticipated it would hit by 2024.
In late September, Mulan, long in limbo amid the COVID-19 pandemic, debuted on Disney+ for $29.99, a new twist for the service.
Disney has been hard hit by shuttered theme parks and movie theaters. Chapek is expected to update Wall Street on the latest numbers for its fast-growing streaming crown jewel when the media conglom reports quarterly results Nov. 12.