Snowflake Q3 Loss Narrows; Shares Rise 11%
Data cloud company Snowflake Inc. (SNOW) on Wednesday posted narrower third-quarter loss, helped by growth in revenues. Following the results, the company's shares are up 11 percent in Wednesday's after-market trading.
The company posted net loss of $154.9 million or $0.51 per share in the third quarter, narrower than net loss of $168.9 million or $1.01 per share in the year-ago quarter.
Revenues soared 110 percent to $334.4 million from $159.6 million in the same period last year. Product revenues also saw a similar growth of 110 percent to touch $312.5 million in the third quarter.
On average, 23 analysts polled by Thomson Reuters expected the company to post net loss of $0.06 per share on revenues of $305.6 million for the quarter.
Looking ahead, in the fourth quarter, the company expects a 94-96 percent growth in product revenues to touch $345-$350 million.
In Wednesday's after-market trading, the stock is up $36.88 or 11% to $346.70.
Stocks making the biggest moves after hours: Square, Snowflake, Five Below & more
Check out the companies making headlines in after hours trading:
Square — The payments company said Wednesday evening that it will change its name to Block. The name change will go into effect on Dec. 10, and comes as the company expands into new technologies, including blockchain. The stock advanced 1% during extended trading.
Five Below — Shares of the retailer jumped 10% after the company beat top- and bottom-line estimates during the third quarter. Five Below earned 43 cents per share, which was ahead of the 29 cents analysts were expecting, according to estimates from Refinitiv. Revenue came in at $608 million, also ahead of the expected $565 million.
Snowflake — Snowflake shares jumped more than 11% after the company beat revenue estimates. The company reported sales of $334 million during the third quarter, which was ahead of the $306 million analysts surveyed by Refinitiv were expecting.
Splunk — Shares of the technology name dipped 1% following Splunk's third-quarter earnings. The company lost 37 cents per share. Analysts were expecting a loss of 52 cents, according to data from StreetAccount.
Christmas at Fox: Third-annual 'All-American' Christmas Tree lighting returns to Fox Square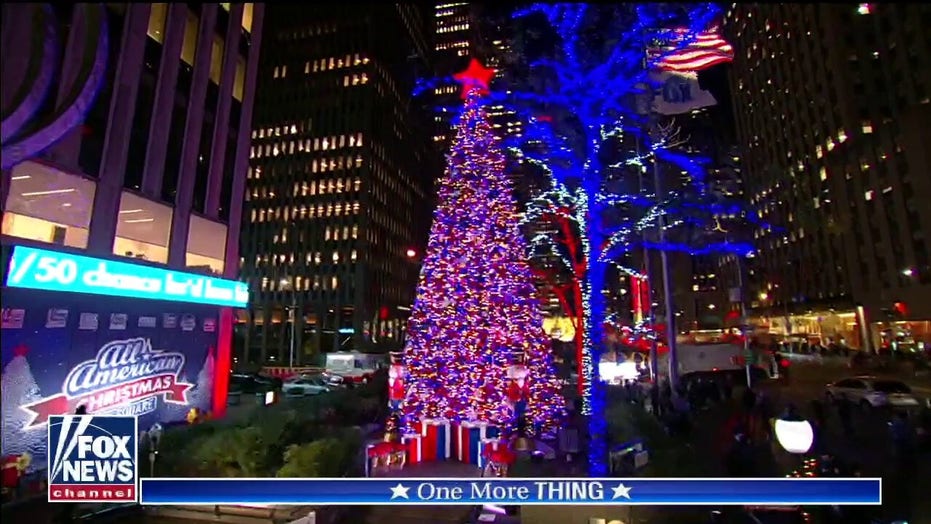 'All American Christmas' celebrated on Fox Square
The 'All American Christmas' tree lighting on Fox Square will air Sunday at 10p ET.
Fox News hosts will usher in the Christmas season on Sunday with a fun-filled night of music, holiday advice, and trivia as they participate in the third annual All-American Christmas Tree lighting at Fox Square, "The Five" host Jesse Watters revealed on Wednesday.
The Fox Nation special, hosted by Abby Hornacek and Lawrence Jones will air at 10:00 p.m. ET. and will take an exclusive look at all the new and original Christmas content coming this month.
Watters said the 50-foot tree, which has been adorned with 10,000 ornaments, and 100,000 lights took a team 21 hours to assemble.
WATCH THE LIVE FEED OF THE ALL-AMERICAN CHRISTMAS TREE BELOW:
Splunk Loss Widens In Q3 On Higher R&D
California-based tech company Splunk Inc. (SPLK), reported a wider net loss in the third quarter due to higher expenditure in research and development.
The net loss reported by Splunk was $343.32 million or $2.14 loss per share, compared to $201.53 million or $1.26 loss per share in the last quarter. On average 31 analysts polled by Thomson Reuters expected the loss to be $0.50 per share.
The revenue came in at $664.75 million, up from $$558.57 million in the last term. The revenue was boosted by a boost in the cloud service to $243.04 million from $144.71 million last year. Analyst estimate for revenue was $650.98 million.
For the next quarter, the company expects the revenue to be $740 million and $790 million while for the full-year, the revenue is expected to be $2.51 billion and $2.56 billion. For the next quarter, the Street outlook fr revenue is $834.11 million while the analysts expect the full-year revenue to be $2.58 billion.
"The demand environment remains strong," continued Child, "and customer engagement is excellent, especially for existing customers managing their hybrid environments. We expect our momentum to continue through the end of the year and we're on track to end FY22 with more than $3 billion of total ARR," said Jason Child, CFO of Splunk.
PVH Corp. Q3 Profit Increases, beats estimates
PVH Corp. (PVH) revealed a profit for its third quarter that increased from the same period last year and beat the Street estimates.
The company's earnings totaled $297.7 million, or $3.89 per share. This compares with $69.8 million, or $0.98 per share, in last year's third quarter.
Excluding items, PVH Corp. reported adjusted earnings of $192.1 million or $2.67 per share for the period.
Analysts on average had expected the company to earn $2.07 per share, according to figures compiled by Thomson Reuters. Analysts' estimates typically exclude special items.
The company's revenue for the quarter rose 10.4% to $2.33 billion from $2.11 billion last year.
PVH Corp. earnings at a glance:
-Earnings (Q3): $297.7 Mln. vs. $69.8 Mln. last year.
-EPS (Q3): $3.89 vs. $0.98 last year.
-Analyst Estimate: $2.07
-Revenue (Q3): $2.33 Bln vs. $2.11 Bln last year.
-Guidance:
Full year EPS guidance: $9.25
Full year revenue guidance: $10.75 Bln