Starbucks Brings Back Reusable Holiday Red Cup To Attract Customers
Starbucks Corp. (SBUX) announced on Wednesday that it would be giving away its famous reusable holiday cups for a single day. People ordering a handcrafted holiday beverage from Starbucks stores across the U.S on Thursday will get their drink in a "limited-edition reusable red cup."
Starbucks said in a statement that this year's reusable cup design has the "classic holiday red, with playful swirls of shimmering ribbon dancing against a starry sky." The same design was also printed on paper cups as part of the company's recently introduced holiday theme.
The company said that the "red cup" supplies are limited and will be given on all orders, either through its app, in-person or via delivery platforms.
Starbucks said that the cup is made from 50 percent recycled materials and people can bring it back to the stores to receive a 10 percent discount on upcoming orders.
If any customer wants to receive the red cup, then they must order a handcrafted holiday drink or fall beverage like apple crisp macchiato, peppermint mocha, pumpkin cream cold brew and toasted white hot chocolate. The Starbucks regular items like brewed and iced coffee are not part of this offer.
Customers always look forward to Starbucks' holiday-themed cups and this year, Starbucks aims to bring higher sales and expects more than $3 billion to be added to the company's gift cards.
Deere & Company Stock Gains 5% On Quarterly Results
Shares of Deere & Company (DE) is trading at 5% on Wednesday morning after the company reported fourth-quarter results, that trumped Wall Street estimates. DE is currently trading at $367.59, up $18.31 or 5.24%, on the NYSE.
The company's earnings came in at $1.28 billion or $4.12 per share, compared to $0.76 billion or $2.39 per share last year.
Analysts had expected the company to earn $3.90 per share, according to figures compiled by Thomson Reuters. Analysts' estimates typically exclude special items.
The company's revenue for the quarter rose 16.4% to $11.33 billion from $9.73 billion last year. Analysts had a consensus revenue estimate of $10.44 billion for the quarter.
Looking forward, the company said it expects full-year 2022 net income in a range of $6.5 billion to $7.0 billion, reflecting healthy demand.
Olivia Jade Just Claimed Mom Lori Loughlin Was the Only Parent Blamed for the College Admissions Scandal
Before you go, click here to see the most important celebrity lawsuits over the past 15 years.
Fed's inflation gauge hits another 31-year high as prices continue to soar
Fed faces tough decisions as inflation remains 'more than transitory': Hoenig
Former Kansas City Fed President Thomas Hoenig explained challenges in trying to tackle inflation in both the short and long term.
Annual inflation is running at the hottest pace in more than three decades as widespread supply shortages, extraordinarily high consumer demand and rising wages fuel rapidly rising price increases.
Prices soared by 5% in the year through October, according to the Personal Consumption Expenditures price index data released Wednesday morning. That topped the previous month's estimates, becoming the fastest pace increase since 1990. Excluding the more-volatile measurements of food and energy, prices rose 4.1% in October from the previous year.
In the one-month period between September and October, prices jumped 0.6% (0.4% when excluding food and energy costs). 
This is a developing story. Please check back for updates.
Supreme Court to review dispute over North Carolina voter ID law
Fox News Flash top headlines for November 24
Fox News Flash top headlines are here. Check out what's clicking on Foxnews.com.
The Supreme Court announced in a brief order Wednesday it will hear a case over whether Republicans lawmakers in North Carolina can intervene to defend the state's voter ID law from lawsuits.
Those Republican lawmakers say the state's Democratic Attorney General John Stein is not properly defending the law from legal challenges brought by the NAACP and other groups who claim it violates the Constitution and the Voting Rights Act.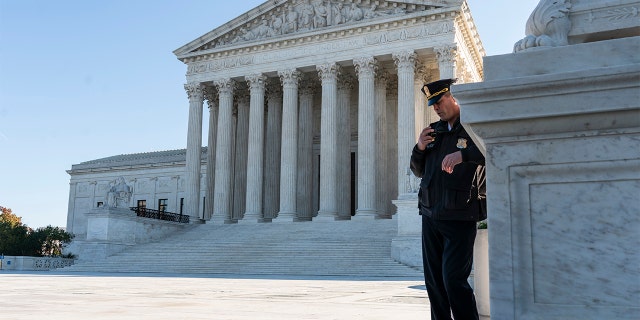 A police officer maintains a watch during a demonstration by victims of gun violence in front of the Supreme Court as arguments begin in a major case on gun rights on Nov. 3, 2021 in Washington, D.C.
(Joshua Roberts/Getty Images)
High court oral arguments will be sometime next year, with a ruling expected by July.
The case is Berger v. North Carolina Conference of the NAACP (21-248).
Swedish Green Party quits ruling minority coalition over budget defeat
The Swedish Green party said on Wednesday it would quit the ruling coalition with the Social Democrats after the center-left coalition's budget bill was defeated in parliament only hours after Magdalena Andersson was elected new prime minister.
"We wanted to have power in order to conduct green policies," Green co-leader Marta Stenevi told a news conference.
"It is … not the Green Party's job in politics to implement a budget negotiated with the Sweden Democrats."
The government budget was rejected in favor of a rival bill put forward by three right-wing parties, including the anti-immigration Sweden Democrats.