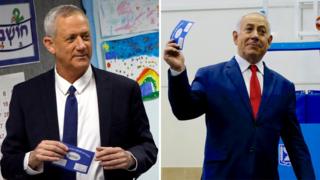 Exit polls in Israel suggest there will be no clear winner in the country's closely fought general election.
The centrist Blue and White alliance of former military chief Benny Gantz was projected to win 36 or 37 seats, and the Likud party of Prime Minister Benjamin Netanyahu between 33 and 36.
Both men have claimed victory.
Two exit polls predicted that right-wing parties allied to Mr Netanyahu were more likely to be able to form a governing coalition.
But a third exit poll predicted that the bloc would be tied with centre-left parties allied to Mr Gantz.
"We won! The Israeli public has had its say!" Blue and White said in a statement. "These elections have a clear winner and a clear loser."
Mr Netanyahu tweeted: "The right-ring bloc led by Likud triumphed conclusively. I thank the citizens of Israel for the vote of confidence. I will begin the task of forming a right-wing government with our natural partners tonight."
No party has ever won a majority in Israel's 120-seat parliament, the Knesset, and the country has always had coalition governments.
Source: Read Full Article