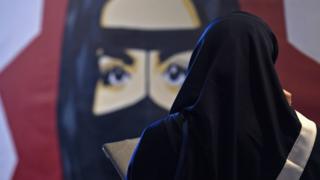 Operating out of a small room in an unknown country, a new internet radio station broadcasts a programme aimed at campaigning for greater women's rights in Saudi Arabia.
With melancholy music playing in the background, the presenter of Nsawya FM (Feminism FM) addresses the issue of domestic violence in the Gulf kingdom.
The presenter's voice shakes with emotion as she discusses the fate of Sara, a woman she says was killed by a male relative.
She was a 33-year-old university graduate with a job who lived with her parents – and who wanted to marry a man with a different nationality, that of Yemen.
"Sara's dream was ended with five bullets shot by her 22-year-old brother, even though she had been officially engaged with the consent of her parents," Ashtar, a 27 year old who uses a pseudonym inspired by the Mesopotamian goddess of love and war, later told BBC Arabic by phone.
The case was reported by the media and discussed by people who knew her, Ashtar said.
The presenter also told the story of Hanan Shahri, who is reported to have killed herself in 2013 after her brother and uncle allegedly beat her and refused to allow her to marry her fiancé.
Such cases, Ashtar said, were "only the tip of the iceberg".
'Silent majority'
Three weeks ago, Nsawya FM set up a Twitter account and announced it would broadcast a weekly programme that would be the "voice of the silent majority".
It also called for volunteers who wanted to get involved in production or contribute material.
In the past two weeks, the station has broadcast two one-hour programmes using only a microphone, a laptop with editing software and the live audio streaming website Mixlr.
The poor quality of the sound and the whole production, in general, reflects the non-professional nature of this project.
Ashtar said they did not expect a massive audience initially, and were instead aiming for "gradual growth" as the programme spread awareness on women's rights.
"We started this project to archive this phase for history, so that people would know we were real, we did exist," explained Ashtar, who did not want so share any details about her own identity despite living outside the kingdom because she feared reprisals.
"The Saudi authorities could ban Twitter at any moment and we would lose the archive of our thoughts. Whereas the radio gives us the opportunity to record programmes and broadcast them on other platforms," she added.
At least 17 human rights defenders and women's rights activists critical of the Saudi government have been arrested or detained since mid-May, according to the UN. Several of them have been accused of serious crimes, including "suspicious contact with foreign parties", and could face up to 20 years in prison if convicted.
'Confrontational' thoughts
Nsawya FM has two presenters and nine women producing content. All but two of the women are Saudi nationals, and some of the women live in Saudi Arabia.
The women say communication between them is difficult because they live in different time zones and some have other demands on their time, including studies or work.
Ashtar described herself as "an activist who uses the media to express her ideas".
She said she had sent articles to a number of leading Lebanese publications in recent years but that none of them had ended up being used. She believed that the rejections were the result of her "confrontational" ideas about society, religion and politics.
Ashtar expressed admiration for the "the Matriarchal era" – an apparent reference to a period in pre-Islamic Arabia when women were the leaders of their tribes.
"I believe that women are better than men. If women were to hold power again, especially in certain sectors like the judiciary, this world would be a better place," she explained.
Ashtar said she did not hide her beliefs from her family and took the opportunity to debate them with relatives at gatherings for Eid al-Fitr and other festivals.
But her family rejected them. "The West has brainwashed you," they used to tell her.
'One signature'
Now that the ban on women driving has been lifted by King Salman, activists like Ashtar are campaigning to for an end to the male guardianship system, which they say is discriminatory.
Under the system, men are given the authority to make a range of critical decisions on behalf of their female relatives.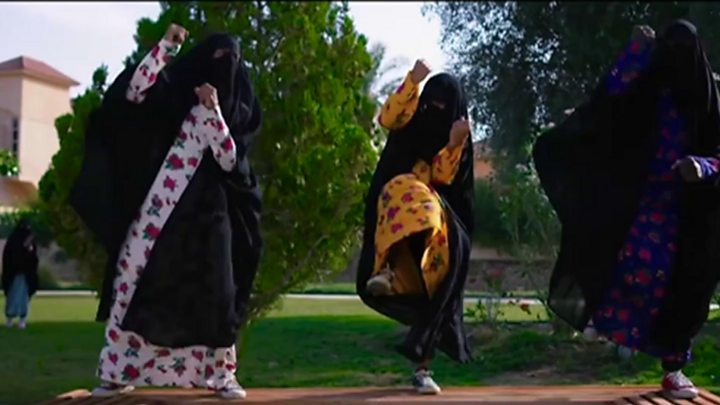 The activists have taken their campaign to Twitter, the most popular social media platform in Saudi Arabia. Saudi women are very active there.
However, many people in the kingdom frown on women using the site to push for reforms.
Some have denounced the activists as "spies" and "not Saudis", or described them as "electronic flies" in an attempt to play down their significance.
Others have urged them to wait and give the king a chance to enact further reforms.
"This is a mere propaganda. We are Saudis and we know it," Ashtar said.
"Had he wanted to, the king could have abolished the guardianship system. This does not need decades of discussions and consultations. All it takes is one signature."
Source: Read Full Article