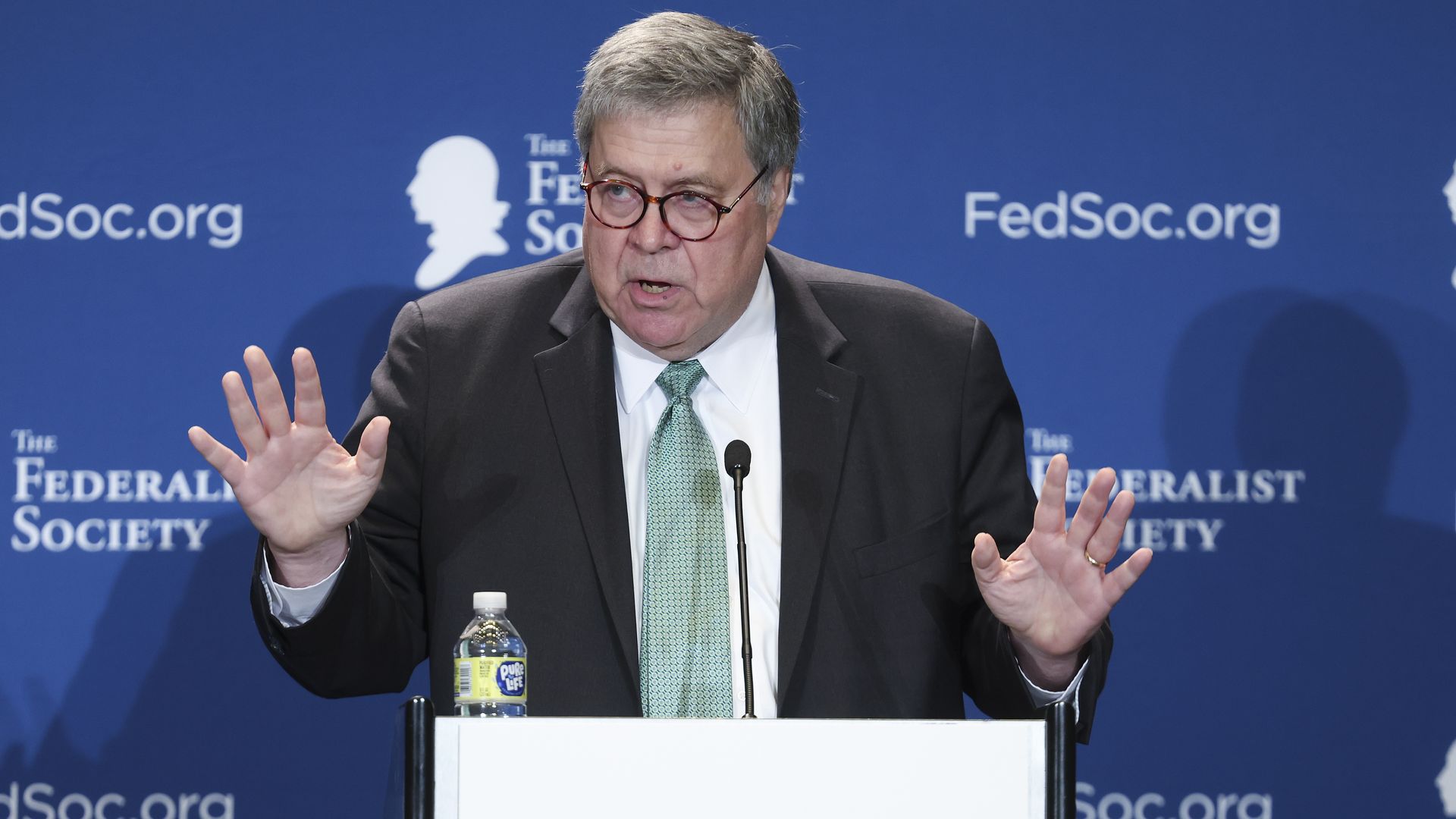 Former Attorney General William Barr speaking at a meeting of the Federalist Society in Septembe in Washington, D.C. Photo: Win McNamee/Getty Images
Former Attorney General Bill Barr told ABC's "This Week" Sunday investigations surrounding former President Trump risk turning the Republican 2024 primary process into a "circus."
Driving the news: Barr criticized the former president's indictment in Manhattan on charges related to a 2016 illegal hush money payment to adult film star Stormy Daniels, but told ABC's "This Week" there's "very good evidence" in the investigation into classified documents found at Trump's Mar-a-Lago residence.
The big picture: Trump is facing multiple criminal probes while running for president in 2024, including the Manhattan indictment that makes him the first-ever U.S. president— sitting or former — to face criminal charges.
He's raised millions since he was charged and cashed in on the indictment with merchandise including a t-shirt with a fake mug shot of Trump, with the phrase "NOT GUILTY" below it.
Flashback: Trump lashed out at his former ally in September after Barr said there was "no legitimate reason" for classified documents to be at Mar-a-Lago.
What he's saying: "He had no claim to those documents, especially the classified documents. They belonged to the government," Barr told ABC'sJonathan Karl of evidence that Trump may have obstructed justice as the government attempted to retrieve top-secret records from Mar-a-Lago.
"I think he was jerking the government around. And they subpoenaed it.  And they tried to jawbone him into delivering documents," the Trump administration attorney general added.
"But the government is investigating the extent to which games were played and there was obstruction in keeping documents from them. And I think that's a serious potential case.  I think they probably have some very good evidence there."
Of note: Barr told Karl the New York probe was a "clear example" of "politicizing the criminal justice system" that "the left is always talking about the ills of."
"What's been put out very opaque," Barr said. "I think if he has a good case, he would specify exactly what his case is. But he's trying to hide the bull," he added.
"Ultimately, the savvy Democratic strategists know this is going to help Trump, and they want him to be the nominee because he is the weakest of the Republican candidates, the most likely to lose again to Biden."
Go deeper: GOP's stormy 2024 outlook
Source: Read Full Article