In an interview with German magazine Der Spiegel published last week, Mr Corbyn claimed Labour "can't stop" Brexit as he urged his party to "recognise the reasons why people voted Leave".
However, speaking to Sky News this morning, Sir Keir directly countered the stance of his party leader.
"Brexit can be stopped," the shadow Brexit secretary said. "But the real question is, what are the decisions we're going to face over the next few weeks and months?
"Decision one is on the deal; decision two is – if the deal goes down – should there be a general election?
"And decision three is – if there's no general election – all options must be on the table, including the option of a public vote.
"That's the clear position and Jeremy's signed up to that, I'm signed up to that, and that was the position that was passed at Labour Party conference."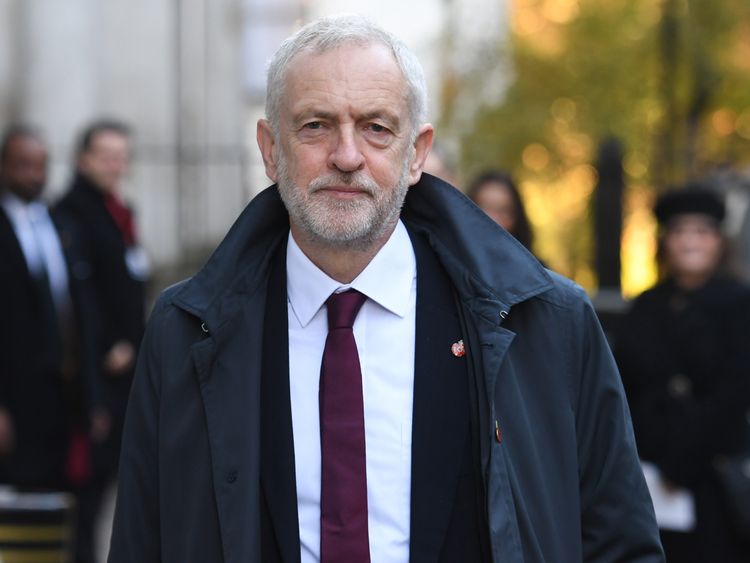 Sir Keir said Mr Corbyn was "explaining how he approached the referendum" in the magazine interview.
But he insisted he, Mr Corbyn, shadow foreign secretary Emily Thornberry and "the whole of the Labour Party" is behind the party's Brexit policy.
As agreed at their September conference, Labour may support a fresh Brexit referendum if parliament rejects a deal agreed with the EU by Prime Minister Theresa May and a general election doesn't follow.
Sir Keir claimed "nothing Jeremy has said is intended to disturb that", adding: "I think just trying to find differences between us, ok fine, but actually the party position is very clear."
Labour have stated they will vote against a Brexit deal in the House of Commons if it does not meet their six tests for an agreement.
On Sunday, Ms Thornberry denied the party was chasing a "fantasy prospectus" with their demand a Brexit deal delivers the exact same benefits as membership of the EU's single market and customs union.
She also told the BBC's Andrew Marr show "all the options remain on the table and we would campaign for there to be a people's vote" if a general election is not held following MPs' rejection of an agreement with Brussels.
It has been reported, if no agreement with the EU is reached this week, the UK will meet the deadline at which plans for a "no-deal" Brexit have to be acted upon.
Downing Street sources said there would be no emergency cabinet meeting on Monday for ministers to sign off on a Brexit deal, with the agenda for Tuesday's scheduled meeting yet to be set.
Time is running out for an extraordinary EU summit to be held this month for the bloc's leaders to approve an agreement, with Mrs May coming under increasing pressure at the key time in negotiations.
Ex-foreign secretary Boris Johnson stepped up his attack on the prime minister's Brexit strategy on Monday, as he expressed despair the government "seems to be on the verge of total surrender".
Meanwhile, House of Commons leader Andrea Leadsom warned the UK must not be left "trapped" in a backstop agreement aimed at avoiding a hard border on the island of Ireland.
And, former culture secretary John Whittingdale claimed it is "quite difficult" to see how Mrs May could remain in 10 Downing Street if parliament votes down her Brexit deal.
Remain-supporting ex-cabinet minister Justine Greening also added to the strain in the prime minister, as she predicted Mrs May's Chequers plan would not get through the Commons.
The EU's chief Brexit negotiator Michel Barnier was due to update the bloc's foreign ministers on the state of negotiations on Monday.
Source: Read Full Article