Labour's Jess Phillips told the House of Commons there should be a system for logging concerns about individuals, even if no action is taken.
The Birmingham Yardley MP revealed how she has "received some harrowing reports of behaviours" by some in parliament.
She added: "I know people won't ever come forward to say and then I'm left a little bit with my hands tied knowing some of those things.
"I do think there needs to be some system so we don't end up in a Jimmy Savile situation where everybody says 'Well, we all knew, oh everybody knew he was a bit like that, oh yeah, course he was'.
"We need a place where MPs – in fact, members of staff, anybody who is around this place – can without prejudice log that somewhere so that we can show patterns."
Hundreds of sex abuse allegations were made against TV presenter Savile following his death in 2011.
Mrs Phillips spoke as MPs debated the findings of an independent inquiry by Dame Laura Cox into widespread allegations of abuse at Westminster.
The report has piled pressure on senior Commons figures, including Speaker John Bercow, after she judged it would be "extremely difficult" for the current administration to bring about necessary changes.
The Speaker has denied bullying allegations directed against him personally.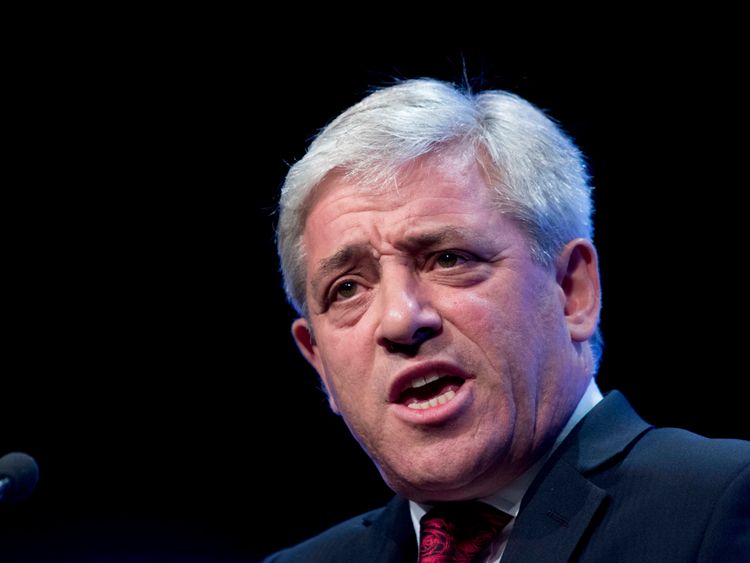 Mr Bercow was absent from the Commons as MPs debated Dame Cox's work on Monday, despite having been present earlier in the day and then returning to the chamber in the evening.
The Speaker's office told Sky News that Mr Bercow was "just doing what he normally does" during parliamentary business.
"The Speaker is normally in the chair for question time and urgent questions," a spokeswoman said.
"He usually comes out of the chair at the end of ministerial statements."
Mr Bercow left the chamber on Monday following local government questions, an urgent question on Brexit and two ministerial statements.
During the debate on Dame Cox's report, House of Commons leader Andrea Leadsom told MPs: "The failings are institutional: they are systemic, they have become embedded and, as noted by Dame Laura, they cascade 'from the top down'.
"It is my strong view that we need to look at the governance of the House of Commons, and we need to democratise it to ensure that with authority comes full accountability."
Fellow Tory MP Andrew Bridgen, a prominent critic of Mr Bercow, asked Ms Leadsom whether the allegations within parliament stemmed from "a relatively small number of rotten apples, but the problem with our particular barrel is that those rotten apples are quite near the top?"
Ms Leadsom replied: "Most of us here absolutely accept that we need to behave with the greatest of professionalism and moral authority.
"It is only a few who let us down, but nevertheless, when they do so, they have to be called out, counted and dealt with appropriately."
She then revealed a new independent complaints and grievances procedure received a total of 51 calls from its launch in July to the end of September.
"A small number of investigations into complaints are currently under way," she added.
"Initial indications for October show that the call rate is continuing at the same level."
Source: Read Full Article