In his 41 years as a barber, Danny Ciantar has heard about everything from break-ups and bankruptcy to the loss of children and wives.
"After cutting somebody's hair for 10, 15, 20 years, you become comfortable with the person and they just open up to you a little bit," says Ciantar, the owner of Danny's Barber Shop in Gisborne in the Macedon Ranges.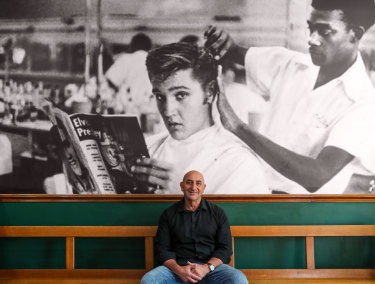 Danny Ciantar at his barber shop in Gisborne.Credit:Paul Rovere
"You've just got to listen and be an ear for them, and hopefully they feel better when they walk out with a fresh haircut and realising someone cares."
So when Ciantar was asked if he would be part of Cut the Silence – a campaign promoting barber shops in Macedon Ranges as a safe space for men to talk openly about what is going on in their lives – he leapt at the opportunity.
"I thought it was a great thing for the community, so I thought, why not? Sometimes speaking to somebody who isn't as close as your family and best mates is a little bit easier."
In 2019, Macedon Ranges was selected as one of 12 suicide-prevention trial sites in the state, as part of a drive to halve Victoria's suicide rates by 2025.
The central Victorian region has a suicide rate of 16 people out of 100,000, well above the national rate of 12.1 per 100,000. Four out of five of those who died by suicide between 2007 and 2017 were male.
Mat Garbutt, a Gisborne local who works for advertising agency Fenton Stephens, suggested using barbers after the Macedon Ranges Suicide Prevention Action Group approached the agency looking for tips on how to speak to men.
A local survey had found 57 per cent of respondents agreed men in the region would not be comfortable talking about their mental health before things reached crisis point.
The majority of those aged 16 to 25 believed men and boys would need to drink alcohol in order to talk about their emotions to friends or family.
Garbutt says: "A lot of the time when people want to speak to men, they default to going through footy clubs and cricket clubs, but part of this whole exercise was recognising that not all men play sport."
Garbutt's son had just started a hairdressing apprenticeship, and it occurred to him that a barber shop was exactly the kind of inclusive environment the action group was looking for.
"Every man is going to get his hair cut or beard trimmed or whatever," Garbutt says. "Informally, they have been places where men might go and have a chat anyway. There's something about sitting in a chair facing forward and someone behind you; there's not that kind of face-to-face confrontational thing, and you probably feel like your guard's down a little bit."
In the US, some hairdressers and barbers have been trained to do everything from recognising the signs of domestic abuse and sexual assault to checking high blood pressure.
Lorenzo Lewis founded The Confess Project, a non-profit organisation based in Arkansas that trains barbers to be frontline counsellors for clients who are depressed, traumatised or considering suicide.
Barber Joseph WoodsCredit:Paul Rovere
In 2017, hairdressers in the eastern suburbs of Melbourne were trained to spot signs of domestic violence in a program delivered by the Eastern Domestic Violence Centre.
In Macedon Ranges, all the barbers involved in Cut the Silence will undergo training to help them recognise signs of distress, start a conversation and provide information on local services.
The course stresses the barbers are not expected to be psychologists or know how to solve anyone's problems – they are there to provide an informal non-judgmental space where men can talk honestly.
Deepa Patel, of the Macedon Ranges Suicide Prevention Action Group, says: "This is not putting barbers up to be an alternative to counsellors or professionals. It's just that we recognise men often talk when they're sitting in that chair."
Joseph Woods, from Joe's Barber Shop in Kyneton, says he was aware of elderly people in Macedon Ranges who weren't sure how to access mental health resources.
"We are there to give them some guidance and pick up on their emotions, which we do anyway," Woods says.
"It seemed just a simple matter for me to participate in Cut the Silence and be able to give them access to resources that they may be looking for."
Most Viewed in National
From our partners
Source: Read Full Article