Could you read the word "intravenous" when you were in grade 3? Did you know the superlative suffix for "pretty"?
It's Wednesday morning at Chelsea Primary, a state school in Melbourne's south-eastern sandbelt, and these questions are being put at rapid pace to a composite class of grades 3 and 4 students.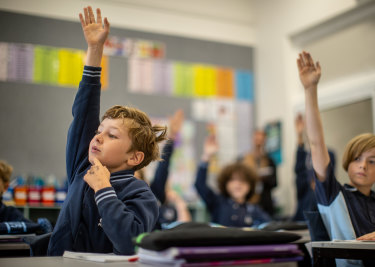 Students at Chelsea Primary School learn to read using synthetic phonics. Credit:Simon Schluter
The children sit in rows, engaged in a half-hour game of call and response with their teacher that is part reading exercise, part endurance test.
Words are broken down into root components – "rupt", for example – then made whole by adding prefixes and suffixes: "erupt, interrupt, corrupt, rupture". The students chant together as the teacher points at each word on a white screen.
They are learning morphology, the study of words and their parts, principal Taylor Irish says, and will repeat each exercise about eight to 10 times until they have memorised it.
It's a progression from the systematic synthetic phonics the school has applied to learning to read for the past two years, using similarly repetitive and sequential methods.
Synthetic phonics teaches children the 44 sounds, or phonemes, in the English language and the letter combinations that make them.
It differs from balanced literacy, the approach used by many primary schools, where students are taught to memorise whole words.
If there is a hint of old-school rote learning in the synthetic phonics approach, Mr Irish insists it ensures that "no student is left behind".
"Kids don't have a chance to opt out, so it doesn't matter what level they're at, they're having to engage in this lesson," he says.
No data has been published yet to indicate if Chelsea Primary's approach to literacy is raising results. The school switched to synthetic phonics in 2019, and NAPLAN was cancelled last year.
But the principal says there is ample evidence that a systematic approach to literacy yields results.
"Our internal data, we are seeing that the majority of our students are making great progress," Mr Irish says.
Mr Irish has driven Chelsea Primary's switch to phonics. But it's an approach that is also being pushed by the Morrison government.
Up to 100 Australian primary schools will get coaching in how to teach phonics in the early years of education, in an 18-month program that is set to start in term three.
The $2.8 million literacy improvement program will be targeted at disadvantaged schools, in an initiative of the Commonwealth Department of Education, Skills and Employment.
A notice sent to Victorian schools earlier this year said that eligibility to join the program had been limited to schools with "low socio-economic status", whose NAPLAN year 3 reading scores were below the national average, and whose students were considered "developmentally vulnerable".
The program will run from July this year until December 2022, and will provide literacy coaching and a "phonics improvement plan".
The department said it was still in the process of selecting participating schools. It is expected both government and non-government schools will join.
Dandenong North Primary School principal Kevin Mackay believes phonics is essential in teaching students from non-English speaking backgrounds.Credit:Wayne Taylor
Kevin Mackay is principal of Dandenong North Primary, a large state school that meets the criteria for the 18-month program, but already uses a phonics-based approach to literacy. More than half of its 800-odd students are of low socio-economic status and 89 per cent are from non-English speaking backgrounds.
Mr Mackay argues phonics is critical to helping students with low literacy grasp the basics of English.
"Over the years, people were a bit disparaging of phonics … but I would say that since the results of NAPLAN testing have come out, people have come to pay a bit more attention to whether the methods that they have been using have been working."
When people ask him what succeeds at Dandenong North, he tells them it's phonics.
Loretta Piazza, principal of Meadowglen Primary School.Credit:Joe Armao
But Loretta Piazza, principal of Meadowglen Primary, a similarly disadvantaged school in Epping, says the synthetic phonics approach is too rigid, overlooking the fact many students need individual attention during class time to learn to read.
"The idea that you can teach children to read using a regimented program, I think any good teacher knows that it doesn't work like that," she says.
"If I've got 50 per cent of kids who know this stuff, I'm not going to be teaching it to them because I'm going to be wasting their time and mine. [The lesson] has to be tailored for those kids who need that instruction at this particular time."
Grattan Institute Education Program director Jordana Hunter says it is encouraging to see more schools use systematic phonics in the early years.
"There are some students who will only learn to read if the alphabetic code is taught explicitly and systematically," Ms Hunter says.
"Children deserve this teaching from day one of primary school. Schools shouldn't be waiting until grade 1 or 2 to see if other approaches have failed and then offer systematic phonics instruction as an intervention strategy."
Start your day informed
Our Morning Edition newsletter is a curated guide to the most important and interesting stories, analysis and insights. Sign up here.
Most Viewed in National
From our partners
Source: Read Full Article