Westminster Abbey bell to toll 96 times
Before the funeral, exactly 96 minutes before the 11am service beings, Westminster Abbey's Tenor bell will be tolled every minute to mark every year of Queen Elizabeth's life.
The tenor bell is the Abbey's largest (there are ten in total) and weighs a massive 1530 kilograms.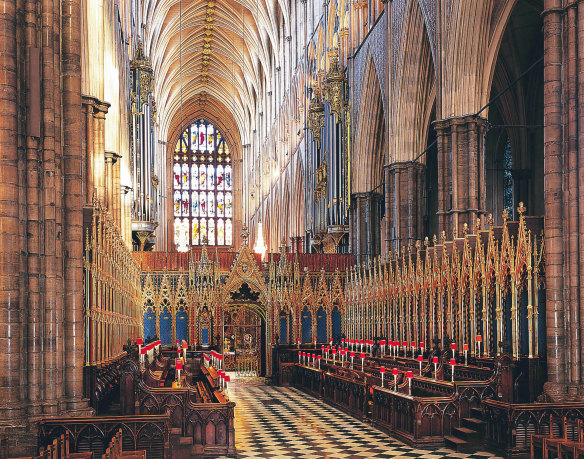 Inside Westminster Abbey.
It is tuned to the note of D and is tolled when a member of the royal family dies, as well as upon the death of the Dean of Westminster.
One of the most sombre moments of the various processions so far has been when Big Ben was tolled as the Queen's coffin was moved in procession from Buckingham Palace to Westminster Hall.
So, the sound of the Abbey bell ringing across, what is expected to be a quiet, if not almost silent, central London, will be mood-setting indeed.
The bells will be rung after the service, but muffled as is tradition following the funeral of the sovereign.
Who rings the bells? The Abbey has a group of experienced volunteer bell ringers, ten of whom form the Company of Ringers drawn from around the country.
King Charles' message ahead of 'last farewell'
King Charles III issued a message ahead of his late mother's state funeral, saying he was "so deeply touched" by the many messages of condolence and support he and his wife, Camilla, the Queen's Consort, have received since the Queen's death 10 days ago.
King Charles III (centre), Princess Anne (left), Prince Andrew (rear) and Prince Edward (right) hold a vigil beside the coffin of their mother, Queen Elizabeth II.Credit:Getty
"In London, Edinburgh, Hillsborough and Cardiff, we were moved beyond measure by everyone who took the trouble to come and pay their respects to the lifelong service of my dear mother, the late Queen," he said.
"As we all prepare to say our last farewell, I wanted simply to take this opportunity to say thank you to all those countless people who have been such a support and comfort to my family and myself in this time of grief."
Britain prepares to farewell Queen Elizabeth
Hello, and welcome to our live coverage of the state funeral for Queen Elizabeth II, who will be farewelled by her family, led by her son, King Charles III, as well as world leaders, British MPs and everyday champions from the Commonwealth and realms.
I'm Latika Bourke and will be helming our live coverage from London, where crowds have gathered for hours to say goodbye to a monarch who became not just a Queen in the UK, but a queen to the world.
Mourners slowly move along the River Thames to view the coffin of Queen Elizabeth II at Westminster Hall before her funeral on Monday.Credit:Getty
Monday's funeral at Westminster Abbey begins at 11am local time (8pm in Sydney) and will run for one hour.
But first, the enormous queue that has stretched for as many as 14 hours across London's Southbank draws to a close as the last of the mourners file past the coffin at 6.30am local time (3.30pm AEST).
The coffin will be moved from Westminster Hall, where it has been lying in state, at times protected by the monarch himself and the Queen's children and grandchildren, since Wednesday.
Most Viewed in World
Source: Read Full Article