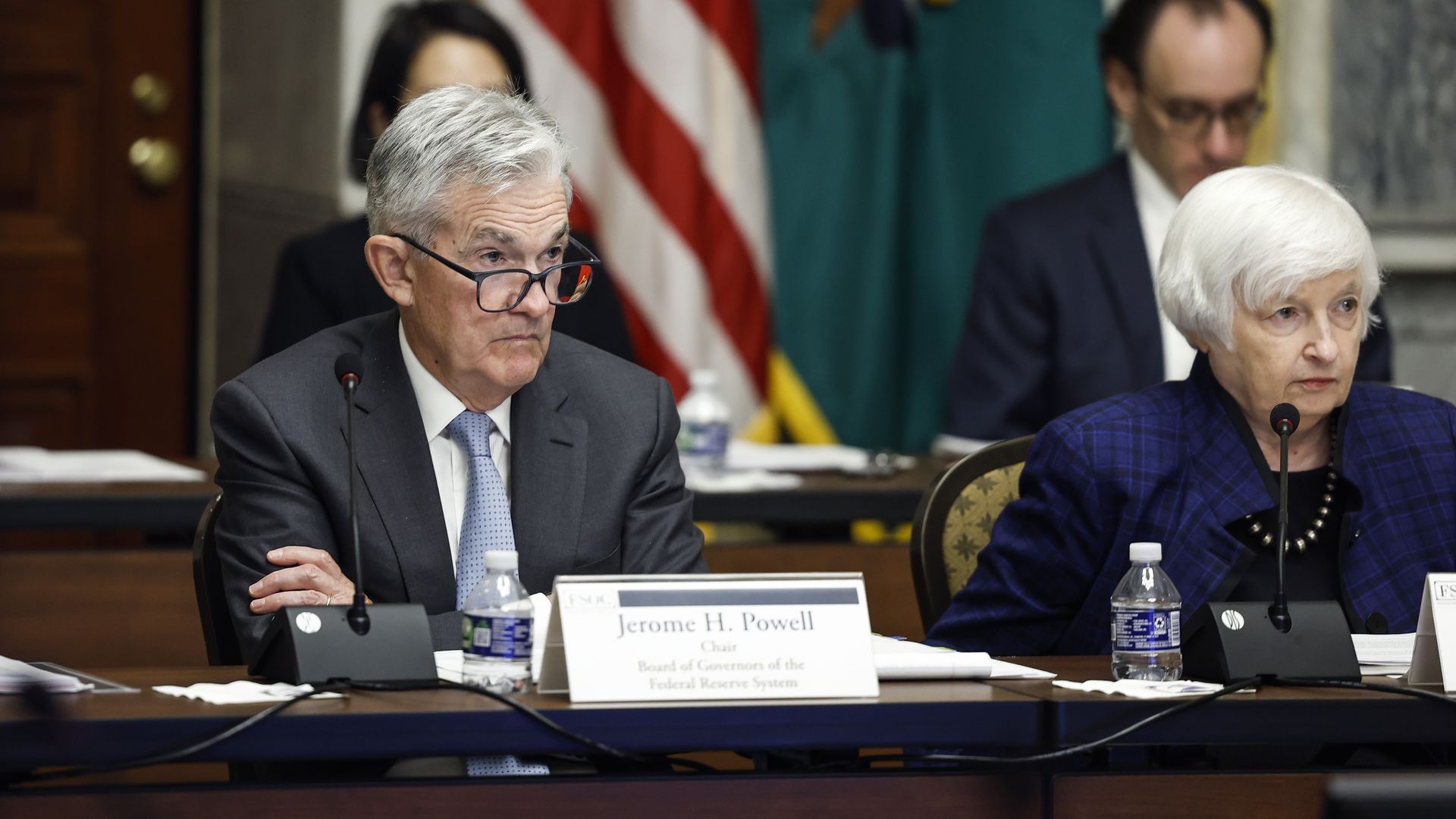 Fed chair Jerome Powell and Treasury Secretary Janet Yellen. Photo: Anna Moneymaker/Getty Images
When he takes questions from reporters this afternoon, the Fed chair will presumably talk at length about the outlook for inflation, employment, and Fed policy.
But a different set of issues loom over the central bank that we suspect Powell would rather not talk about — potentially tough decisions that involve a debt ceiling standoff.
Why it matters: The debate itself is a fiscal issue between Congress and the executive branch. But if it turns into a crisis with a U.S. default or other extreme outcomes on the table, it would inevitably ensnare the Fed.
State of play: The Fed acts as the "fiscal agent" for the U.S. government, essentially serving the same role for the Treasury that a bank (like JPMorgan) might for a large corporation.
The New York Fed operates Treasury debt auctions, so it would be in the middle if demand falters for U.S. government bonds, or if the government attempts to avoid breaching the debt limit through novel strategies to manipulate the face value of debt.
The Fed also maintains the government's operating accounts; any attempt to prioritize payments — for example, making good on interest payments but delaying paying military contractors — would be a profound operational challenge.
For now, the Biden administration is disinclined to exploit a legal loophole by minting large denomination platinum coins. But if it did, the Fed would have to decide whether to accept the deposit, and could face litigation regardless of its decision.
Then, there are the risks to financial markets and the economy if there is a technical default on bonds, which economists across partisan lines see as potentially catastrophic.
The Fed would immediately face questions as to whether it should suspend quantitative tightening that is withdrawing liquidity from the Treasury market, or even start buying bonds again.
What they're saying: "While the Fed will be careful not to inject itself directly into what is ultimately a fiscal issue, we can also be sure that it won't take the possible effect of a default on financial markets and the economy lightly," Piper Sandler's Roberto Perli and Benson Dunham wrote in a research note.
"A default, even if brief, could have profound consequences, and most likely the Fed is exploring possible ways to mitigate the problem," they wrote.
The intrigue: There are unusually close ties between the individuals involved. Treasury Secretary Janet Yellen is a former Fed chair. Current Fed vice chair Lael Brainard may be heading to the White House imminently.
And Powell was a Treasury undersecretary in the 1990s overseeing debt issuance. He came to public prominence with commentary on the debt ceiling standoff back in 2011.
The bottom line: The Fed doesn't like getting caught up in the middle of political disputes. But with the way things are going, it won't have much choice.
Source: Read Full Article