Maddison Parrott's strapless white wedding dress still hangs inside her mother's wardrobe.
The bodice, speckled with hand-sewn beading, had fit her daughter like a glove on what was meant to be the first day of the rest of her life.
"She had a fairytale wedding," her mother Marlene Parrott recalled.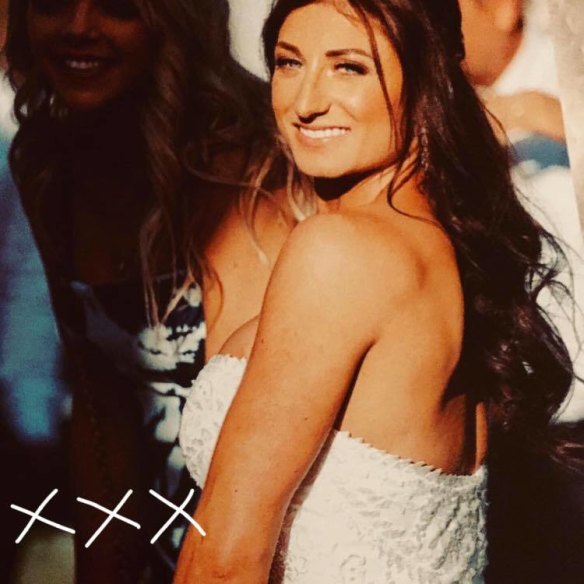 Maddison Parrott in her wedding gown.
Eighteen months later, her charred remains were found inside a burnt out glamping tent. Detectives would later discover a bullet hole in her forehead.
The man responsible – Nicholas James Cross – was infatuated with the married woman who was grappling with the breakdown of her marriage to her high school sweetheart.
On Friday, the Supreme Court sitting in Geelong heard the 35-year-old killer had shown no remorse for his actions, still maintaining someone else was responsible for her murder after Justice Rita Incerti found him guilty in June following a judge alone trial.
The court heard Nick Cross was withdrawing from the drug ice.
In a victim impact statements read out by the prosecution at his plea hearing, Marlene said four years on, she'd now made the difficult decision to part with Maddison's wedding dress. It's too painful to keep.
"Maddison's room remains empty, just photos of her on the wall," she said.
"My life fell apart the day Maddison went away."
Family friend Melissa Evans said when she heard about a tent fire at the Geelong showgrounds in December 2018, never did she imagine it'd involve someone she knew.
Maddison Parrott's body was found in a burnt-out tent.
Evans said Cross has taken advantage of a lost girl who was at her most vulnerable and hoped one day he would find it in himself to take accountability for the pain and suffering he had caused so many people.
"Sadly, there is a small community of us, bound together by your selfish actions. Dragged into a world that's very unsavoury and very unfamiliar to us all," Ms Evans said.
Cross had only been out of jail for six weeks when he killed Parrott, 29, after arriving at the Geelong showgrounds with a friend in a grey Suzuki Swift, armed with a cut-down firearm.
The court previously heard Parrott had been staying at the camping grounds with a friend when an argument involving Cross took place in the morning on December 3, 2018, and she was shot in the head.
About 1.30am the following day fellow campers reported a tent on fire, where firefighters discovered a body inside.
Following a homicide investigation, Cross was arrested days later in New South Wales.
No clear motive has been established.
Crown prosecutor David Glynn said Cross – who maintains he is innocent – had shown no remorse for his actions against an "utterly defenceless" and unsuspecting victim.
Cross' prospects of rehabilitation were poor, he said, noting his longtime drug use and final act of insult towards his victim – causing her body to be set on fire.
Glynn said at the time of the incident Cross was also known to carry a loaded gun.
"He was living his life in a situation where he was just a hair's breadth away from deciding to shoot someone. Then he did," Glynn said.
"To take someone's life for no reason is indicative of a person who is an ongoing threat to a community. The need for community protection here is high."
At home in Geelong, Maddison's family is still grappling with the devastating consequences of losing a loved one to murder.
Father Dale Parrott said he was left with only a photograph of his daughter to kiss every day.
Cousin Jodie Percy said her family's life now resembled a horror film.
"Life was better with Maddy, but now our family knows true horror and sadness," Percy said.
Cross will be sentenced at a later date.
The Morning Edition newsletter is our guide to the day's most important and interesting stories, analysis and insights. Sign up here.
Most Viewed in National
From our partners
Source: Read Full Article